STATS:
Willys 1944 MB 'Jeep'
Data Plate serial #: 366014
Frame Plate serial #: 366014
Engine block serial #: MB-464435
Body serial #: Has yet to be established (appears to be missing or never stamped, but needs to have some paint stripped to confirm this)
Built by Willys-Overland, Toledo, Ohio
Delivered to the Army on 28 August, 1944
Turned over to USN control, probably through the Mt Rainier Ordnance Depot. Used by the Puget Sound Naval Shipyard, Bremerton, WA during the war (has been incorrectly ID'd in some publications as a MZ-series communications Jeep out of Fallon NAS, but I have since confirmed it was never a MZ commo Jeep). Sold off as surplus in 1947 or 48. Per Vern Christopher (the 2nd civilian owner), it had yellow "USN" marking and some numbers on the side of the body when the paint was stripped off. He said he wrote them down and then lost the paper.
Originally purchased after the war by an unknown man who used it as a hunting vehicle, fitted with locking hubs and towed to hunting sites. At some point, his kids ran into a tree and destroyed the bumper. Currently, the front frame rails still show the damage from that impact.
Bought from the first civilan owner by Vern Christopher, painted and used in parades. I bought it in September of 1999 and drove it home two weeks later.
I've repainted the hood and re-marked it up, along with the usual services. Among the few of the other minor parts I've added or changed that I can recall offhand: All the canvas; oil pump float and pivot; fuel tank; mirror; two tires; one rim, water can (1944 dated); tow bows; glove box lid button and hardware; fuel pump, rebuilt the generator; entire exhaust system past the manifold; hub splines and end caps on front axle; rebuilt the carb (as a precaution); first aid kit and bracket; spare tire support bracket (to a earlier three-bolt unit)
She could really use a complete restoration, but at this time I have neither the time, money nor the experience to even attempt this. The most pressing issues I should get to is the troubleshooting of my electrical system (it doesn't charge the battery at all) and eventualy re-sealing the tranmission and transfer case gaps. But for now, she'll do just fine!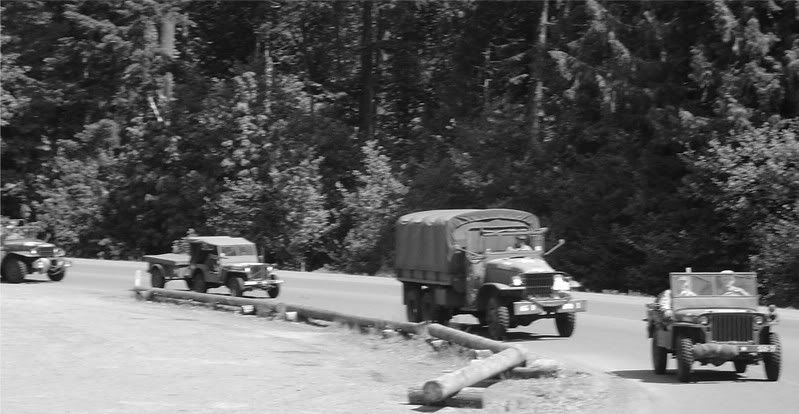 My MB is in the front of this convoy, coming back from the Forest Festival Parade in Shelton, WA.
Engine serial # on the block, original engine to the Jeep as it's in the same serial # range of known blocks from the summer of 1944. It's hard to read in this photo (which I had to combine from several shots at very close rang from under the oil filter housing) but the complete # is: MB-464435