American War Correspondents of WWII
(originally ran in the MVPA magazine, Army Motors in 2009)
We're all familiar with the scenes in the 1970 classic film, 'Patton,' where the besieged general is set upon by a pack of rabid war correspondents, ready tear apart his every word. In the film, the viewer is led to believe that the correspondents were to be feared almost as much as Hitler's forces. But, is this a fair assessment of the mostly civilian reporters who wrote and broadcasted the news from the theaters of war? Many WWII enthusiasts are familiar with the name Ernie Pyle. His homespun writings garnished him a substantial fan base long before the war and his writing during the conflict earned him a celebrity far greater than that of any general. His death in 1945 was mourned to a degree rivaled only by the earlier passing of Franklin Roosevelt. Many people today can name only this fine example of a reporter gone to war. But was he the only one? With these questions in mind, any serious student of WWII must be aware that civilians in uniform, often close to the action, wrote the news. They went in unarmed and with both eyes open. Most of their stories were of others, those armed and in the fight that was being covered for an America eager for news of their boys overseas. But what of the correspondents themselves? Who were they? How did they get there? Getting a war correspondent to the battlefronts was a long, arduous process. Many never got close enough to write of the action itself. Some never made it out of the states. Among those that did get into action, some never made it home alive. While much has already been written of the military reporters for Stars and Stripes, as well as the photographers that recorded the war, little has been said of the civilian news people who served in WWII. This is their story.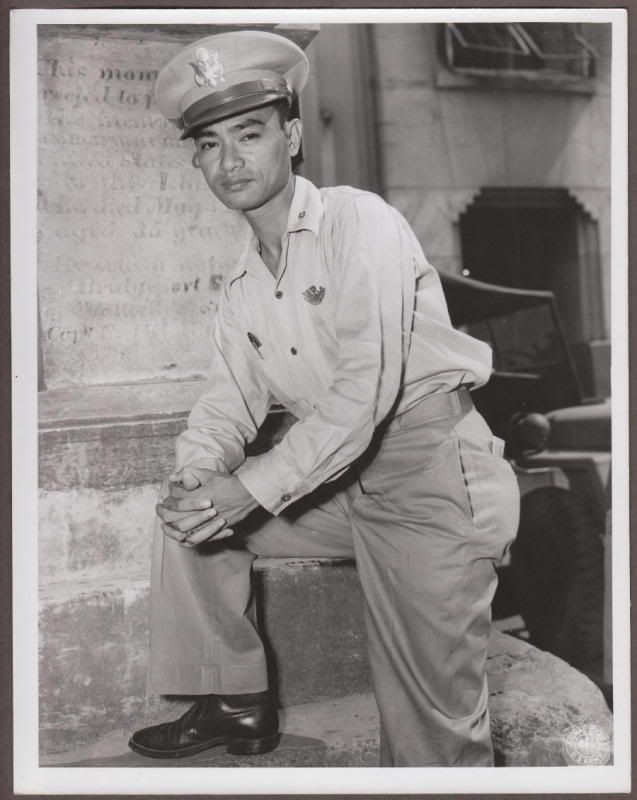 Ricardo Cabez, 1945
Getting into action
The history of correspondents in wartime is a long one. Thucydides wrote first hand of his observations of the Peloponnesian Wars in the Fifth Century. Writers, artists and photographers roamed the landscapes of the American Civil War and were well known for their exploits. The American experience in WWI laid groundwork for the experience to follow in WWII. By 1942, the US Military had a system for correspondents to get in and report the action. First, a reporter had to volunteer. They had to be in good physical shape. After being accepted by the government, they had to get all their affairs in order, purchase their own equipment from a tightly-controlled packing list, get several immunizations and then show up for duty. They could choose where they wanted to go, but in the end the government made the call. Most correspondents wanted to be attached to combat units because the best stories could be obtained from outfits in action. The 'wire' services got top priority in getting correspondents into the field. The smaller the news source behind a reporter, the less likely they'd see any action to report on.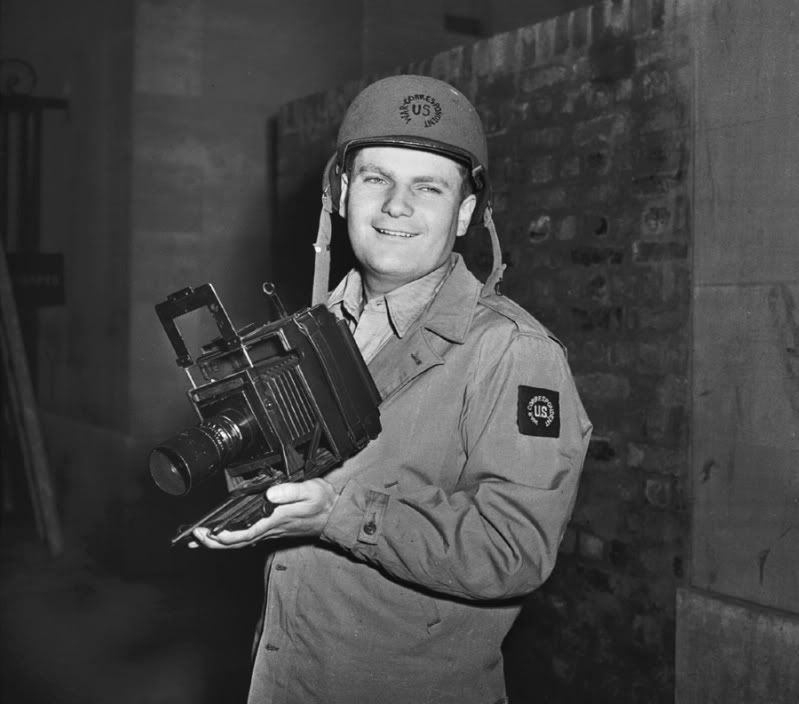 Harry Harris, 1944
Uniforms for civilians
Like military officers, correspondents had to buy their own uniforms. Most had an officer's 'pink and green' set made by a tailor. This uniform differed in a few ways from the official US Army version. They usually wore 'US' collar insignia and a shoulder patch denoting their status as a correspondent. While different styles were available, the most common patch was the round lettered patch with yellow text on a light green background. Metal insignia were sometimes also worn on the shoulder straps of the jacket. While the green armband with a white letter 'C' was standard, and is outlined in several manuals, the photographic evidence supports it wasn't worn very much except in official photos and in gatherings of higher-ranking officers. The practicality of wearing an armband in combat would make it difficult to assume it was worn very often in action.
Original Correspondent's patch
The army units that hosted correspondents often 'awarded' them the divisional patches to be worn along with the correspondent insignia. The US Navy had a shoulder insignia for correspondents, which was usually sewn to cotton service shirts and worn in rear areas or on the landing beaches. The Navy also had its own correspondent collar insignia, with a 'C' over the top of an anchor. A matching officer's style hat insignia was also issued, although only the shoulder patches seem to show up in period photos. The Marine Corps had their own insignia as well, but the few correspondents serving with Navy or Marine units who wore insignia at all, appear to have almost exclusively used the USN patches. It has been noted that perhaps the correspondents in the Pacific feared standing out in a crowd due to concerns over the Japanese not taking their non-combatant status into account.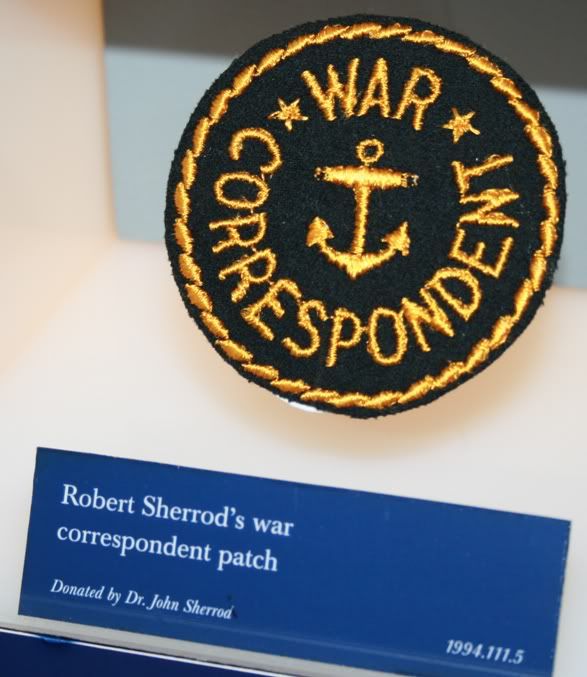 Robert Sherrod landed at Tarawa with the USMC. His patch is at the USMC museum at Quantico, VA (photo by Lee Bishop, June, 2009)
Female correspondents did serve with distinction, both to their profession and their nation. Most appear to have served in Europe and wore uniforms quite similar to their male counterparts. Their dress uniforms were also officer quality and similar to what WAC troops in the given area would be wearing at the time, only with appropriate correspondent insignia.
Newsmen up front
Correspondents rarely ever operated in groups and usually saw one another only at large gatherings of higher-ranking officers or noteworthy event, where the overlap in coverage was natural. Normally only one reporter was assigned to a specific area. There was overlap usually when different correspondents performed different duties such as a photographer; artist, or a writer from different venues might be seen in a given area, but usually not more than one of each. Field Manual 30-26 clearly outlines the duties and expectations for a war correspondent. While not members of the military itself, correspondents were still subject to military law. They were also subject to arrest and court martial in extreme situations, although there is no evidence to support this was ever necessary. The Geneva Convention clearly forbade correspondents from being armed. However, this was ignored on occasions as some correspondents were certainly armed in situations where their special non-combatant status would not have been noticed at the moment. For example, war artist Howell Dodd landed with the 1st Infantry Division at Normandy armed with a M1911A1 pistol. Correspondents usually dealt with the Public Relations Officers (PRO) of the units they operated with. Their stories were censored and filed through these departments. Unless a reporter got the all-important 'accreditation,' they would never leave the states. It had to be granted in writing and could be revoked at any time.
Correspondents were accorded an honorary officer status, which was reflected in their dress and living conditions. They were often allowed to eat in the officer's mess but the smarter ones knew it wasn't good to totally disassociate themselves with the troops on the line. They did foster a good relationship with the PRO if they wanted their stories to get out. Often photographs had to be hand carried back to a Base Section or other rear area where an early form of a fax machine could be used to transmit the images back to the press offices. Stories were transmitted by various means, and were often read over radio or telephone lines. Usually a reporter would write out the news with a pencil at the front, rush back from the lines and type out their story, then take it to the PRO for censoring and transmission. Sometimes, stories had to be held back for security reasons. Several reporters knew of the impending Normandy invasion but the stories didn't go out until the first troops were already ashore.
Though lacking for very little, correspondents were at the mercy of the units they worked with for transportation. They rarely ever were issued vehicles for their use and often had to beg, borrow or steal rides where they could. Depending on the unit commander, a correspondent could find himself on a very low priority when the unit moved to a new location.
The names
The exact number of American war correspondents may never be known as many transferred into and out of the battlefronts throughout the war and served with many different nations. It is widely accepted that somewhere around 4000 individuals were correspondents in WWII. Many of these news reporters were well known even before the war started. Others had names made by their wartime exploits. Some of these names are well known to many Americans even today. Beloved 1930s travel writer Ernie Pyle enjoyed fame equal to today's 'rock stars' before he was killed in 1945. Ernest Hemmingway landed with the 4th Infantry Division at Normandy and attempted to become a liaison to the French resistance, gathering a huge arsenal of captured German weapons for the cause. The journalistic community today speaks of Edward R. Murrow's radio broadcasts from war-torn London with reverence. Later CBS newsman Walter Cronkite landed with the 101st Airborne Division in Holland in 1944 and covered a bombing mission from an 8th Air Force B-17. Vogue magazine actually sent a photographer to cover the war. Lee Miller was one of the few female photographers to go into the combat areas in Europe.
The legacy
As noted earlier, movies have shown correspondents in action, though not often very favorably. Still, correspondent dispatches often show up in histories of WWII. The book and film versions of Flags of our Fathers, the passing of Bill Mauldin in 2003 and the re-discovery of a 'lost' photo of Ernie Pyle after his death in 1945 have thrust correspondents back into the public view. As a correspondent role can be a relatively inexpensive 'impression' for re-enacting, several vendors make reproduction insignia to add to combat uniforms. A correspondent impression is also a valuable uniform to have if displaying WWII items or vehicles in venues where weapons are frowned upon. Individuals can be found at WWII events dressed in correspondent gear and groups such as WarCos, the international correspondent re-enacting group, carry on the legacy of the WWII correspondent and admirably tell their stories.
The author has noted that many people seen with a correspondent impression at WWII events appear to have more 'creature comforts' than actually existed. For example, a disproportionate amount of them have field desks, chairs and other large items. Most correspondents traveled very light and such bulky items rarely would go very far with a correspondent due to the fragile nature of their travel arrangements. Simply put, field desks and other large items often would be left behind. The only large item seen in the hands of correspondent in WWII would almost certainly be their typewriter or camera equipment.
Murlin Spencer with a standard "office" in the field, notice the lack of field desks...
The cost
After the war, an official list of correspondents killed was compiled. While some died in accidents, fifty-four car correspondents were officially listed as being killed in WWII. Ernie Pyle was of course the most notable of these when he was cut down by a Japanese machine gun on Ie Shima in 1945. The loss of President Roosevelt less than a week before made Pyle's death even harder to accept for his fans. Many readers thought one of the most horrible ironies of the war was that neither man saw the ending of the conflict.
Soon after returning home at the war's conclusion three more correspondents died. Among those three was New York Times writer Harold Denny. While attached to a British unit, he was captured at Dunkirk in 1940 and was a prisoner of the Germans until 1944. He died of a heart attack less than a year later which was blamed on his condition after years of captivity.
Most war correspondents went on with their lives, but none ever forgot what they saw on far-flung battlefields around the world. It would be easy to assume that many struggled with the horrors they witnessed for the rest of their lives.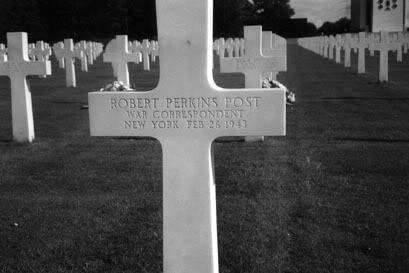 Lest we forget...