2014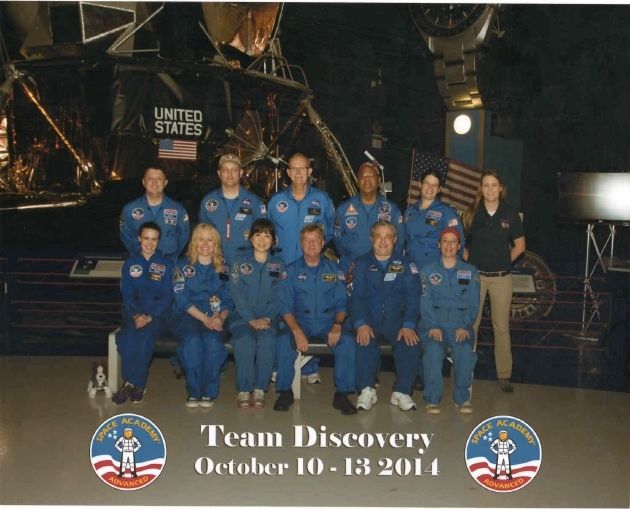 Here we have the (hopefully just the first) Steely-Eyed Missile Men Tour (SEMM-1). This was not only another run at Space Camp, but a combined trip to Kennedy Space Center (KSC) as well that lasted over a week. The crew of SEMM-1; Puckett, Brock and Bishop, had an amazing trip.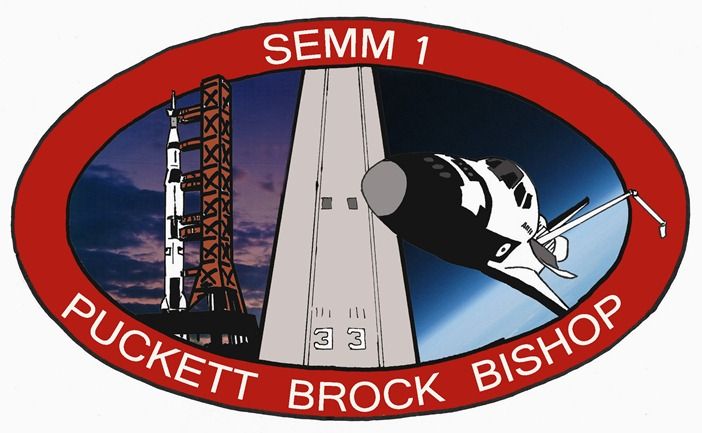 So much happened, I don't know where to start...
Kennedy Space Center: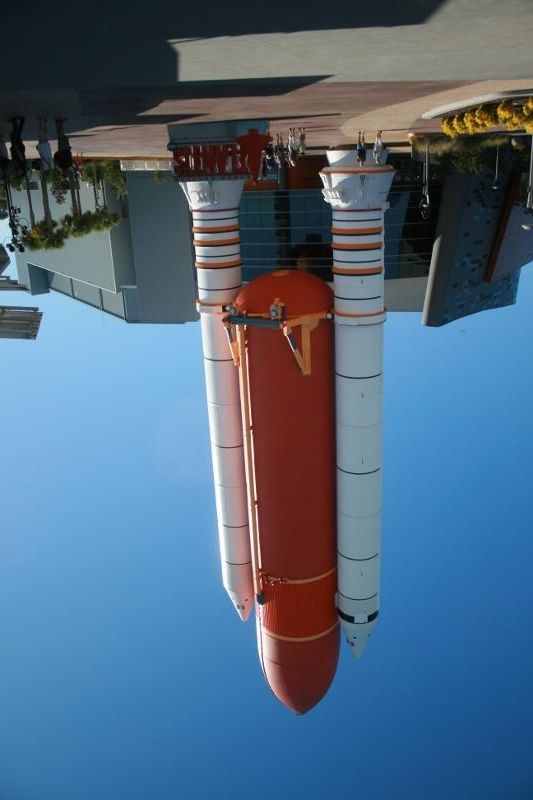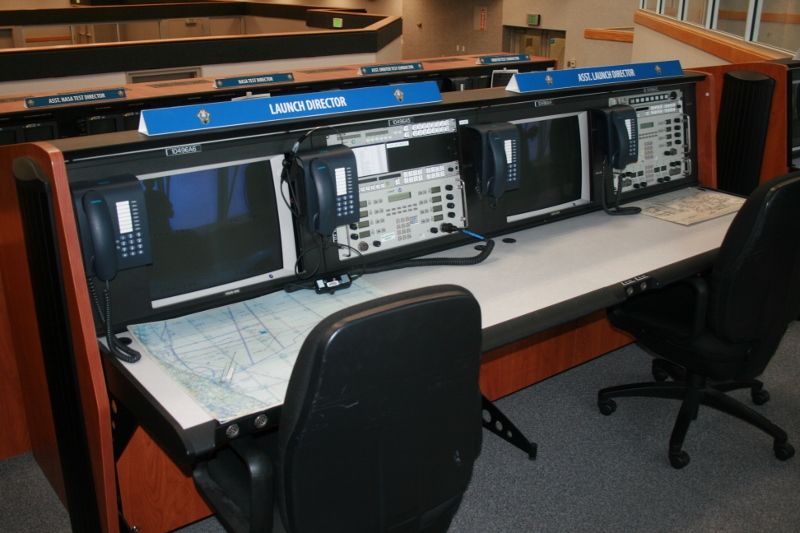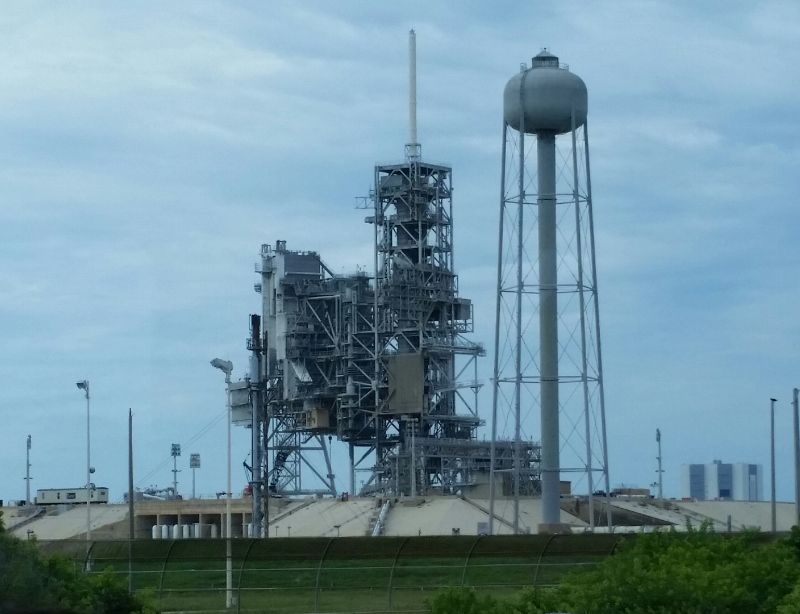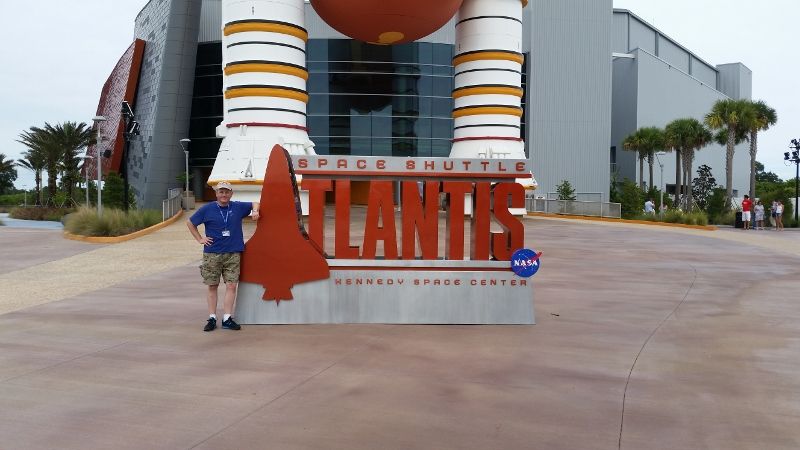 Various sights around KSC, including the capsule from Apollo 14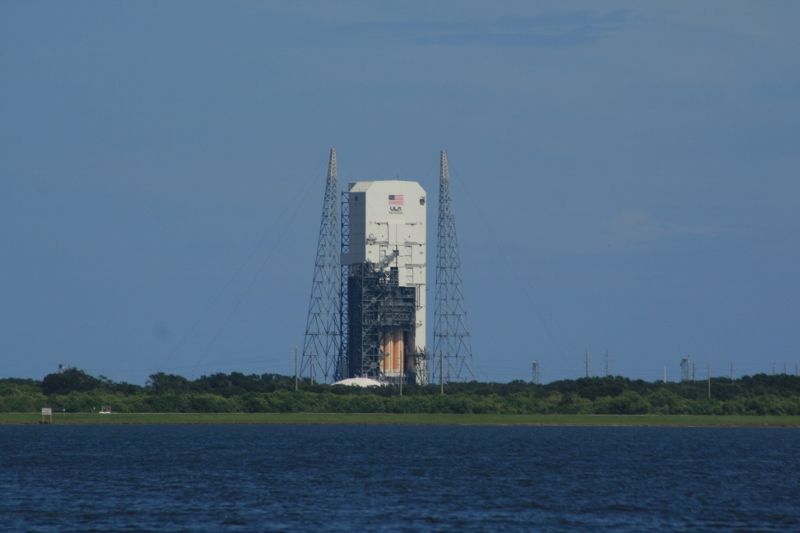 We even saw the Orion EFT-1 test mission being readied for it's December launch!
John, Steve and I met at the Orlando airport and headed to the coast in a rental van (which we refered to as 'The CSM') for 3 solid days of sightseeing. John cracked me up when he took a look at me and said, "You're taller than I imagined," which is something I get often from people who've only seen photos of me online. We'd each bought annual passes online and I had a devil of a time getting mine squared away once I got there. In the end it worked out okay and we got some cool lanyard IDs to get in and out of the place (and it was good practice for wearing lanyards once we got to Hunstville). Kennedy Space Center was amazing and that new Atlantis pavilion takes your breath away. They have the orbiter rotated to a degree that you can see every inch of it. A walkway takes you all the way around and you can get underneath it as well. We got to see the launch center (I've stood right at the launch director's chair) and the runway the orbiters landed at, among other tough-to-see sights that aren't on the normal bus tour. We got to both pads at 39A and 39B, right up to their outer fences and got to the Saturn V building twice. They have a complete Saturn V in there as well as the capsule from Apollo 14 and Al Shepard's EVA suit he walked on the Moon in, on the same mission. There were an awful lot of German tourists running around the place, and I think it surprised a few of them to hear an obvious American replying in German to them (I'd never encountered any Germans who couldn't speak English when I was actually in Germany, but plenty who didn't understand English last week). I had a couple of short conversations with them, which was nice to know I hadn't totally lost the ability to understand the language. It came in handy when overhearing what they were saying, several of them assumed nobody would understand them and they said some very interesting things, let's just say. We also got to meet astronaut Robert Crouch (STS-83 and STS 94) and got signed photos from his missions (I'd downloaded the photos from the NASA site and printed them myself before I'd left home). He was a very nice guy, like most astronauts are in such cases.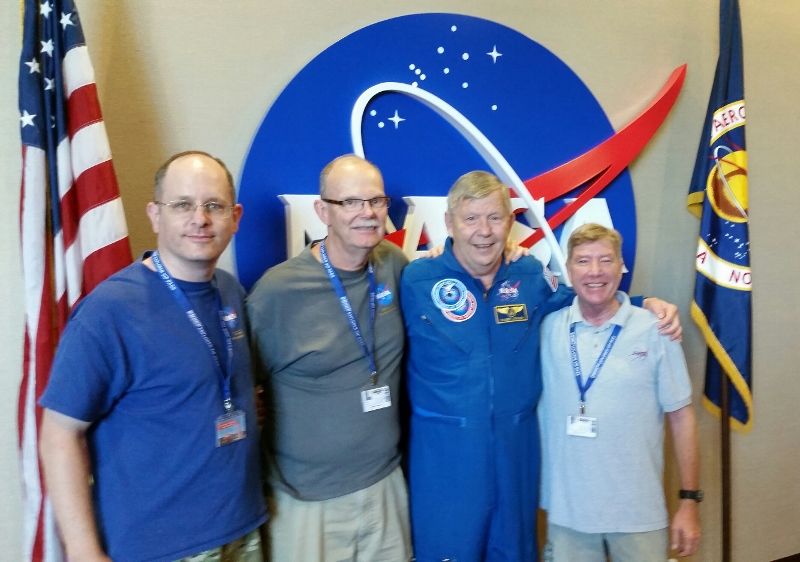 Thanks again, Dr Crouch! Note the lanyards we're wearing and our NASA shirts which were the uniform for this portion of the trip
Our hotel was very close to the center, at the end of each evening at the Center, we'd be back at the hotel so fast it seemed like we were next door. There was also a Sonny's BBQ nearby which really hit the spot as I hadn't eaten at one in a very long time (I used to love going there when I was living in Tallahassee). 
John took a later flight directly to Huntsville, but Steve and I caught a very early flight to Nashville. We went to his place, picked up his truck, then drove on down to Huntsville. We passed right by the Jack Daniels distillery on the way, but I'd been there the previous year so it wasn't a crushing blow to not stop in.
When Steve and I got to Huntsville (John didn't show up until much later that afternoon), we did the Redstone NASA tour which is always pretty cool. Got to see the ISS mission control again, as well as a lab I'd never seen before.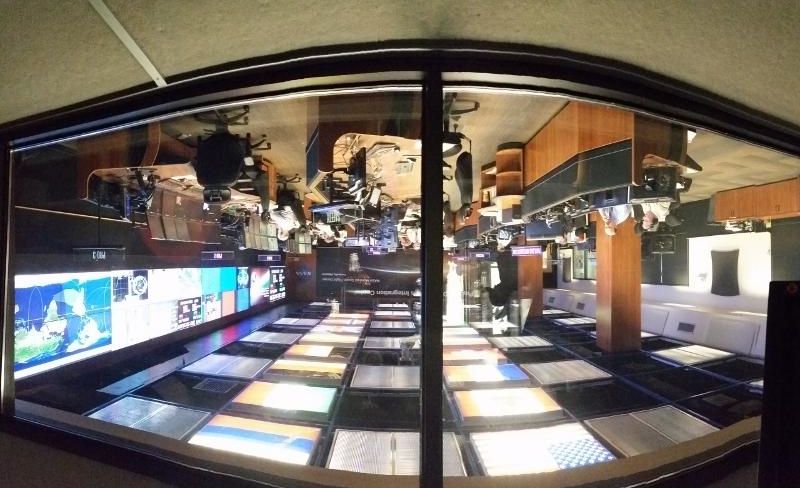 ISS Mission Control at Redstone and the famous HAB1 at Space Camp!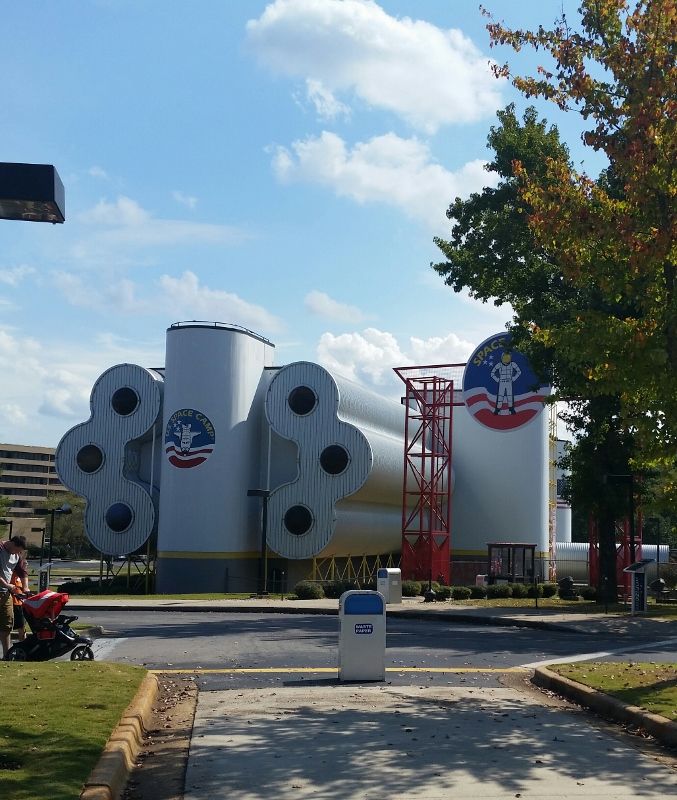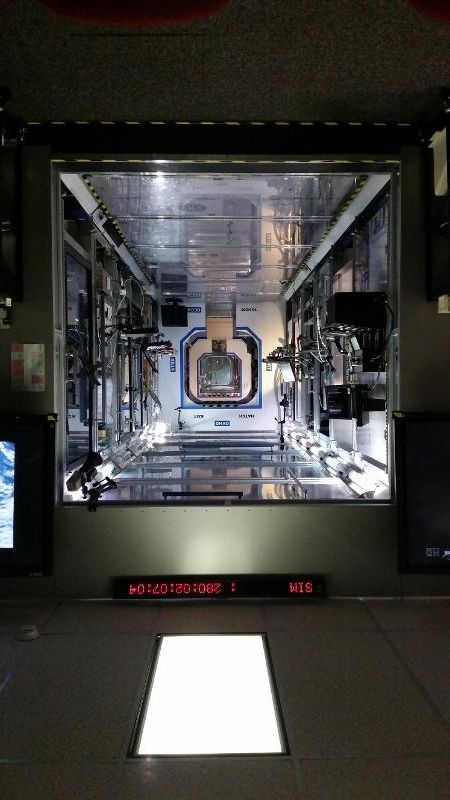 Day One:
The next morning, we hooked up with John. We walked around the center and looked over the place. By 11, we were checked in and waiting for camp to start. There were family and school groups all over the place but our session seemed to be alone by the second day. Once things got rolling, we found there were 4 teams of 12 people each this year. The staff grouped similar people together, so our team was filled with nothing but people who'd been there before. That worked out great. We had Mel, our 20-something trainer from Australia (who was young enough to be the daughter of some of us and the granddaughter of one guy) and a doctor from Japan. It was the first time I'd been on a team there with foreign nationals and the first time in a long while I'd heard an Aussie accent. We had one guy who was in his early 70s, the rest were from their 20s to 50s. Mel kept up our spirits by yelling out, "G'day, Discovery!" to which we replied at the top of our lungs, "G'DAY, MEL!" It was a running gag for the entire weekend, one we'll never forget. She also referred to us often as, "Disco."
In true camp fashion, we hit the ground running. We did a "get to know you" session and right away, I developed a good feeling about the team I was in. It seemed like everyone was on the same page from the start. At that time, I didn't realize that they'd placed all us camp alumni on the same team intentionally, nor that we were almost all the alumni going through the camp that week.
To be honest, I had been worried that my third trip to SC would make me jaded and cause me to have a 'ho hum' attittude, especially after the less-than-perfect experience I'd had the previous year. As it turned out, 2014 would be the best SC experience I've had so far as I was in a great team, with a perfect trainer and very good schedule. Not even several storms rolling through the area the entire time could dampen Team Discovery's spirit!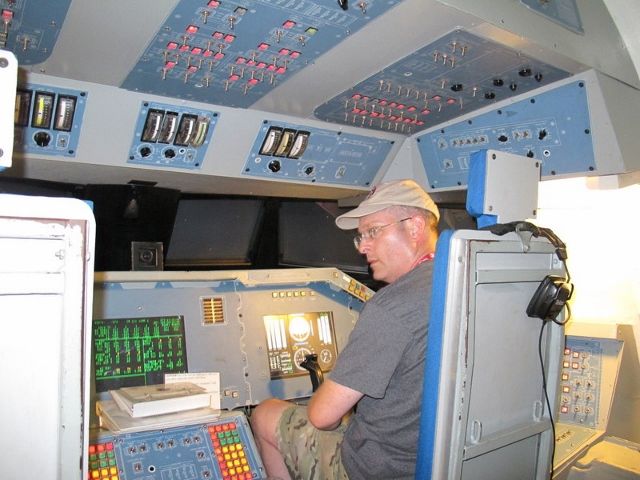 Practicing for the Alpha Mission (Photo by Danielle)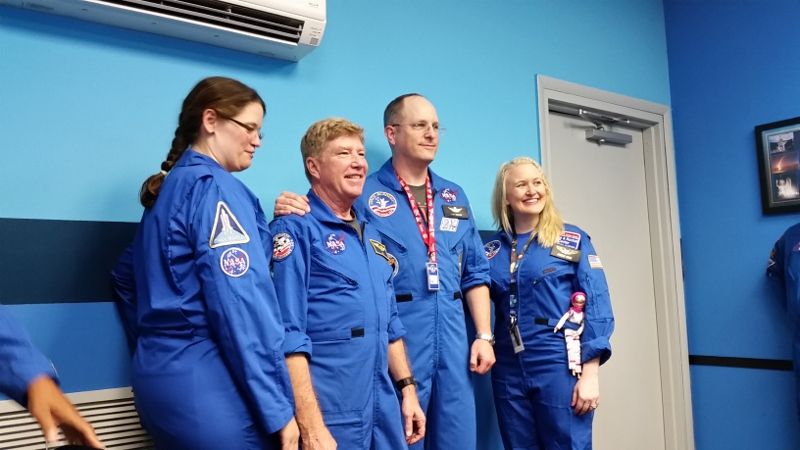 First prime crew readies for the Alpha mission in the Discovery simulator (the one they used in the 1986 movie). Note the Space Barbie on Danielle's flight suit to the right. More on that later.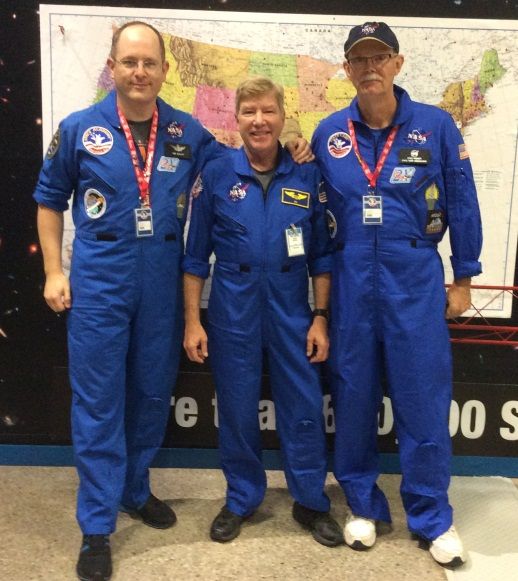 The SEMM-1 crew (Me, John and Steve)posing before the Alpha mission (Photo by 'PK'). It's hard to tell, but we're all wearing the same grey "Atlantis" t-shirts we bought in the gift shop at KSC the final day we were there, and wore them when walking into the HAB the first day of Camp. God knows what everyone else thought when they saw that.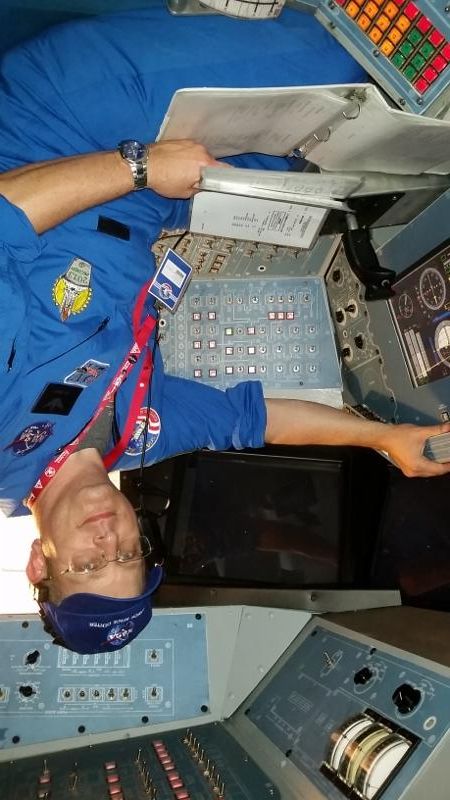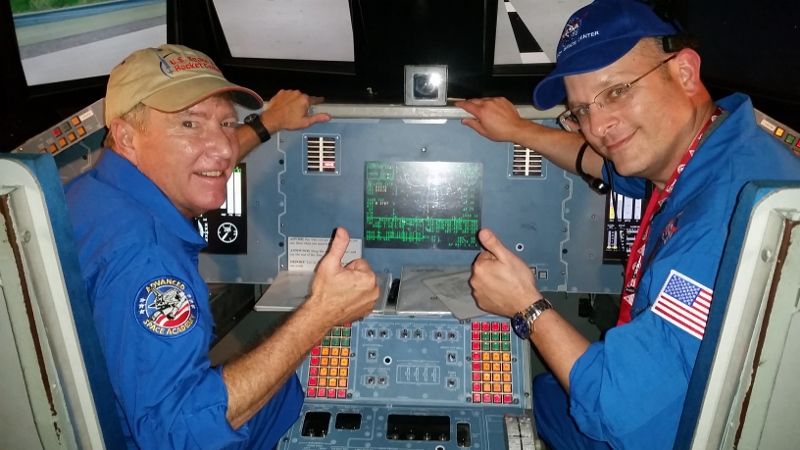 Alpha mission, being where I belong, in the front office of the orbiter!
The missions started right away. I wound up in the orbiter in the pilot's seat for the first hour-long mission, using the very same motion cockpit simulator they used in the 1986 movie, "Spacecamp." I was told this would be removed soon. John was the commander (he even offered to swap seats but I declined our of fairness) and I was later commended on how fast I was on the switches. Looking back, I missed a once-in-a-lifetime chance to make some sort of crack about entering 'The Red Zone,' (watch the 1986 movie if you don't get that) but didn't think of it at the time. The mission was pure nominal and John greased the landing at Kennedy (ironically the same runway we'd seen in person less than 48 hours before). Our Mission Specialists were Cassandra and Danielle. Danielle cracked us up by carrying around a Space Barbie the entire time. She had to include the doll in any photos of her, and took plenty of shots of Barbie doing Space Camp activities. She even got to talking for Barbie in Mission Control once. We thought it was great and I later posed Barbie for her a few times in some photos. I'd done the same thing the previous year with Earl, a little stuff squirrel puppet my wife and I take with us on trips. I'd forgotten to bring Earl along, and Barbie missed out by not meeting him. Later, crewmate Aimee bought a stuffed space pooch named Laika from the Camp gift shop. Danielle found a Space Camp Barbie there as well, so by the end of camp, we had three team mascots!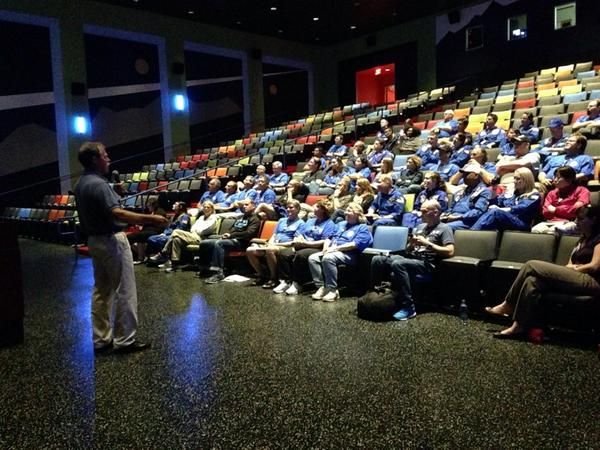 Listening to Hoot. I'm far right, 4th row up, with a blue cap on.
After we landed the orbiter Discovery, we had a lecture from former NASA chief astronaut Robert "Hoot" Gibson, followed by a screening of the IMAX movie, "The dream is alive," which has Hoot in it. We also got to talk with Hoot and get photos with him. A real class act, that man. We all loved that he took time to talk with us. I even got him to autograph my NASA visitor center passport which all three of us SEMM-1 guys got at Kennedy Space Center (and hooked up the rest of Team Discovery for once we got to Huntsville): http://www.visitnasa.com/nasa-passport-to-explore-space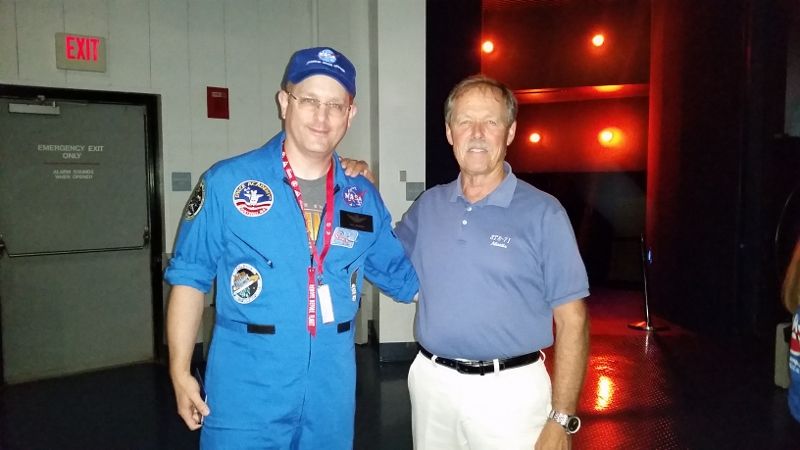 Thanks again, Hoot!
We'd also had a discussion about mission patches. Like last year, I felt it was way too early as we didn't have any common experiences or knew each other yet. I offered to design the patch if the team wanted it. I later heard from someone on the team who said he'd seen this website and hoped I'd be on his team in regard to the mission patch. That really made my day. Coming into camp this year, I was seriously worried about the patch competition, as it was known ahead of time that a space fan group from Facebook was coming at the same time and I'd assumed they had their patch design already. I never saw what the other teams came up with, but I was determined to do my best. I laid out my "ten pounds of idea in a 2 pound bucket," theory of design which seemed to be well understood this time.
By the end of the day, we were beat. At that point, I had no idea it'd keep up that way until we were done...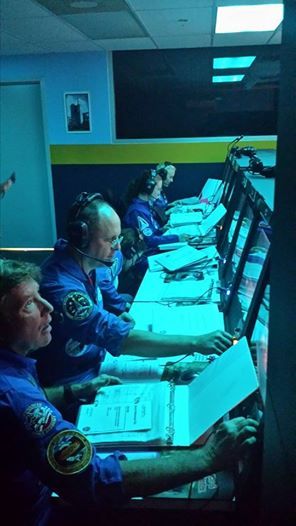 MOCR for Bravo Mission: From top to bottom, Danielle, Aimee, Me and John
Day Two:
The mornings came really early. I always get up at 6AM at Camp, to get ahead of everyone else for the communal bathrooms and get an early start on the day. I never usually sleep well in the HAB and this year was no exception. I only slept through the night on the final evening I was there. But I go there for the experience, not to have a 5-star hotel room (though several people in our team stayed in hotels the entire time).
Starting off with a history tour of the Davidson Center with a former NASA engineer, the time just raced by. It didn't help that he wasn't a loud talker and we really needed more time than we had, but soon enough we were off for training for the second mission.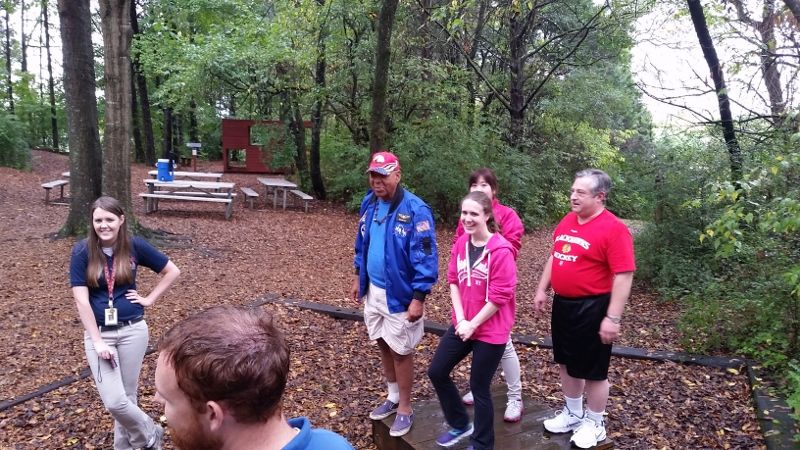 We're on what island?
We then headed over to the "Area 51" section near Aviation Challenge (no flight sims or centrifuge this year) and did a leader reaction course. I'd never been there before but it was standard stuff; get from one wood platform to another without touching the ground, only assited by two boards which are too short to span the distance. Bush league stuff for me and Justin, as we were picked to lead the group (he's a current USAF space guy) and soon enough we were taking care of things quite well. Again, everyone came with the same mindset.
After lunch, we had a second shuttle mission, which I pulled in Mission Control. By then, we used the full sized Enterprise simulator for the remainder of camp. The Atlantis simulator I flew last year had been removed from the floor before we got there. I ran numbers on burn data and stuff like that. That time went by uneventfully and quickly.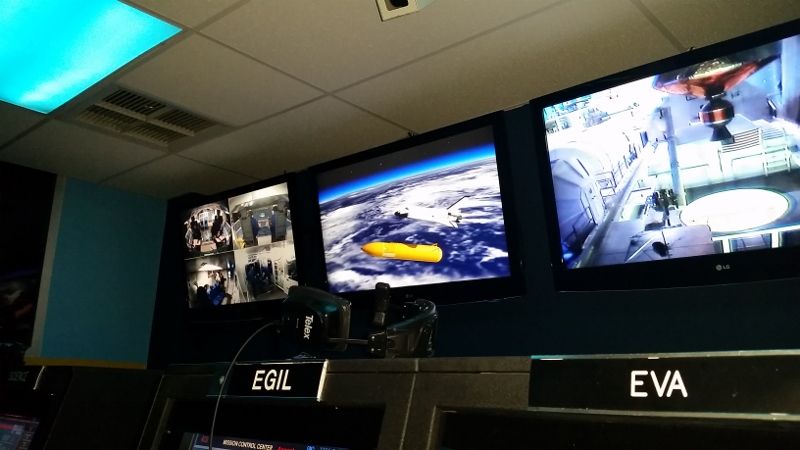 Losing the ET on the Bravo mission
After the Bravo mission, we went to discuss making our own model rockets from parts. This took a lot longer than was planned. We broke off into groups of 3 or 4. Chika, our team mate from Japan, suggested a good design for the rocket, which had to loft an egg and return it safely.
The Mission patch beckoned, so the team apparently agreed to my design using the Australian, American and Japanese flags as well as an Orion capsule (thank God, as I was getting tired of orbiter hardware on the previous patches I'd designed). Mel challenged us to include a kangaroo in the design and I instantly knew how I'd do that, by making one of the islands on the Earth's surface in the patch into that shape. I had brought various size sharpies and colored pencils and had the patch done reasonably fast. the team seemed pleased but I still had a nagging doubt that the design would win. I just wasn't sure what that Facebook team had figured out before we got there.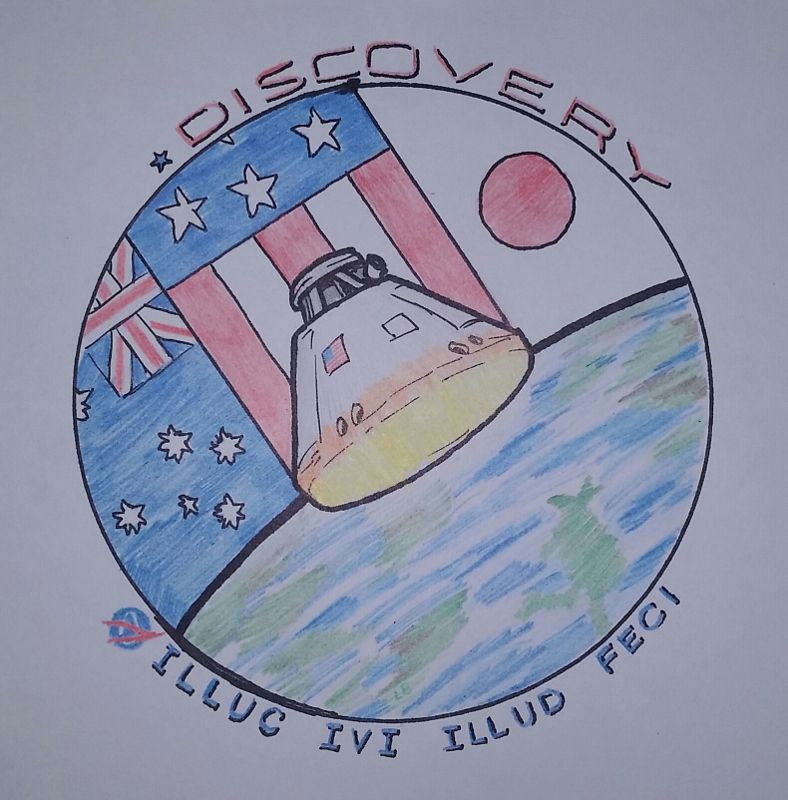 The phrase at the bottom is latin, for, "Been there, done that."
We then found out that we'd be running a lunar mission from the Orion capsule. I'd never used it nor the Lunar base modules before, so I was pumped. The Orion simulator has a lot of bugs in the software but we tried to make the best of it. The lander that Justin and I piloted had some problems but we got there fast enough. Soon we realized we'd be suiting up for a walk over to a damaged moon base for some repairs. Seeing the previous occupants recovering from their lunar walk, that should have tipped us off. John and Danielle (Barbie, too, I imagine) looked wrung out. We suited up, with no cooling at all inside the suits, and roasted right away. Justin's visor fogged completely up and I had to find some things by touch as there was no adequate lighting, but such is the way for astronauts. We fixed a broken window, re-connected several power cables and got the base running again. It took a while standing under the module's AC vents to cool off. Still, we both loved it.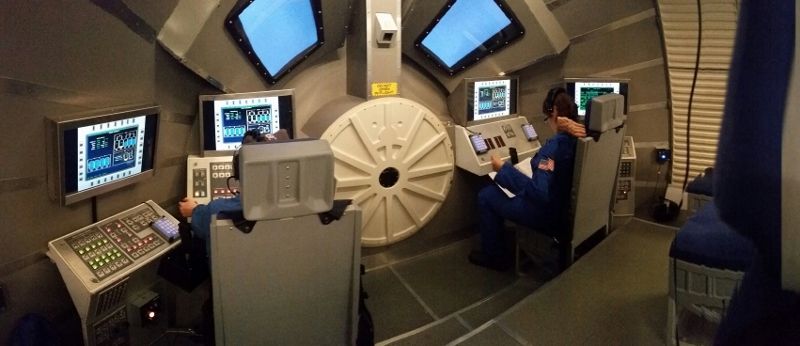 Orion Mission to the Moon!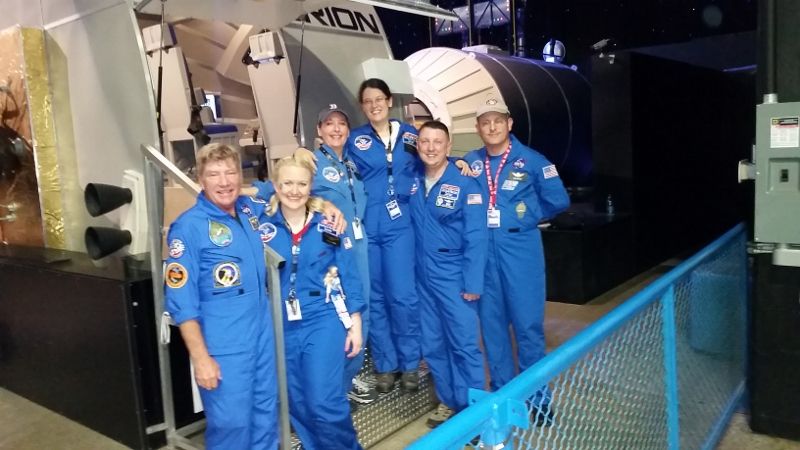 Full Orion and Lunar base crew. From left to right: John, Danielle, Lindsay, Cassandra, Justin and myself.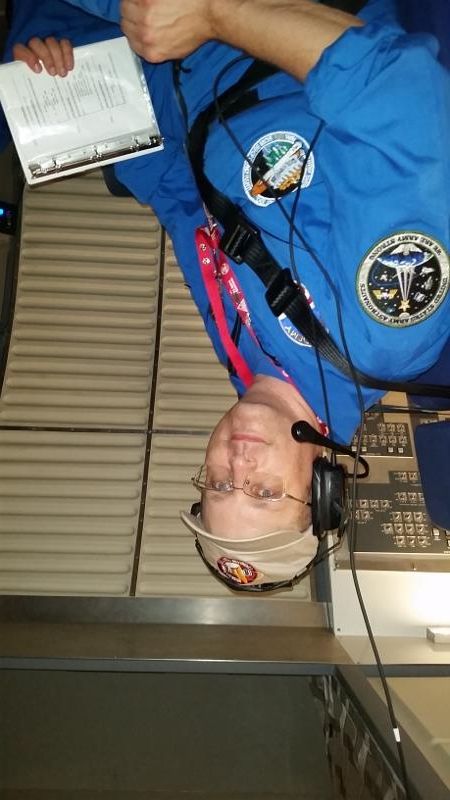 Lunar Mission Specialist. Both the Army and Air Force were well represented on the surface (both shots courtesy of Justin)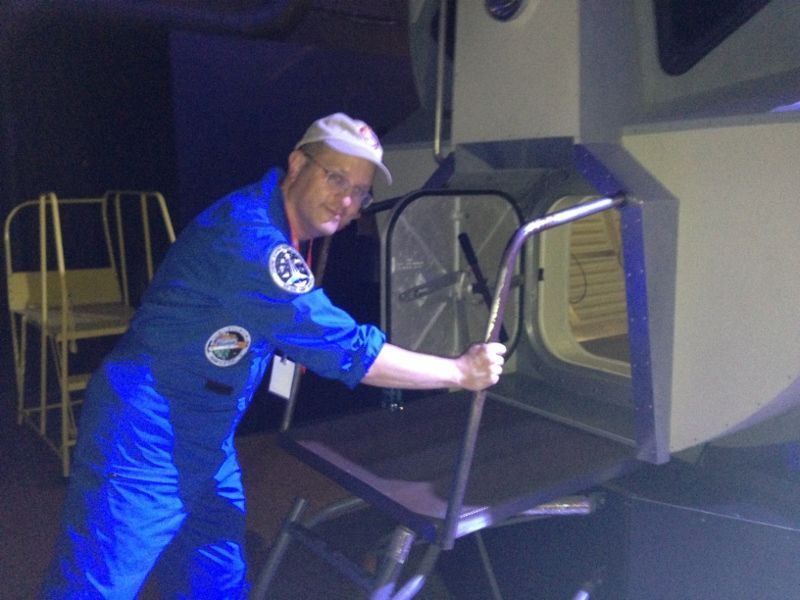 Once Justin and I suited up for the EVA, it was seriously cool but ridiculously hot in those things. Thanks to Justin for these two shots. He's the one with the helmet without the lights on the top. I love this second shot of him inside the moonbase!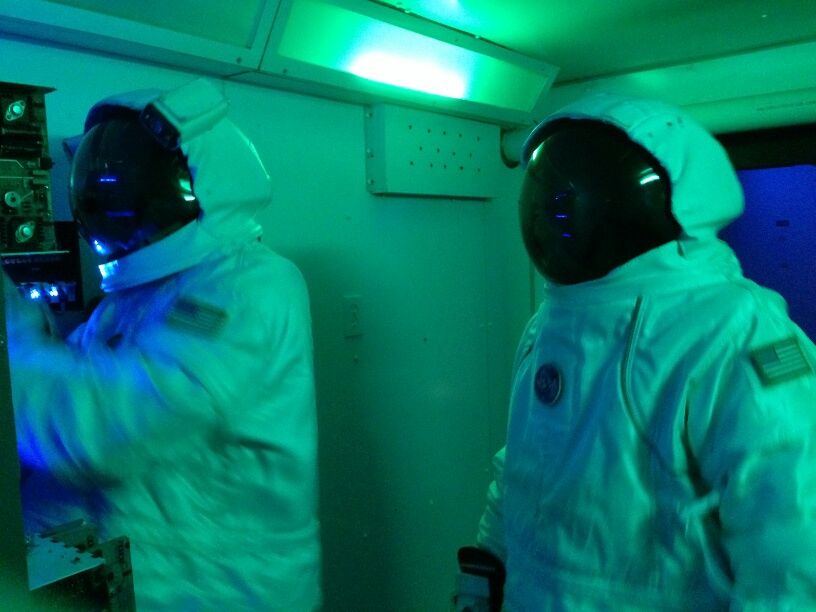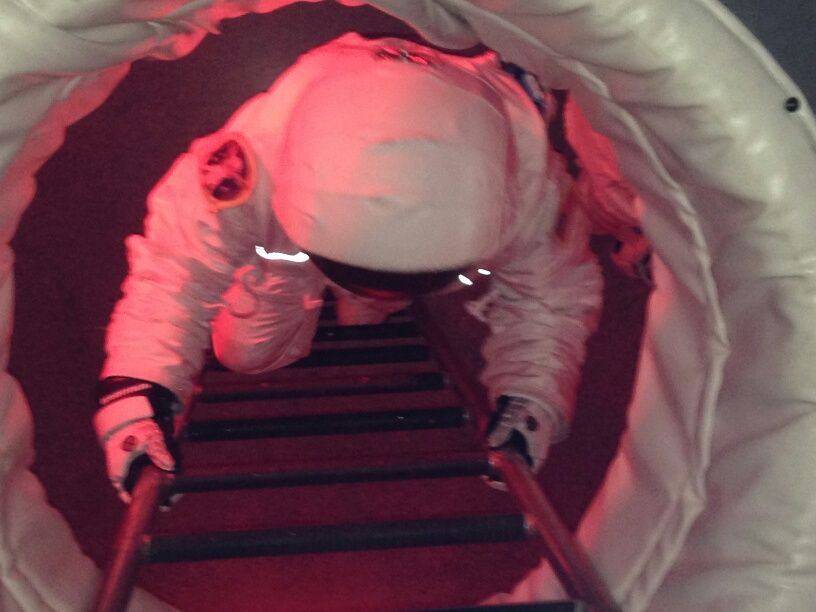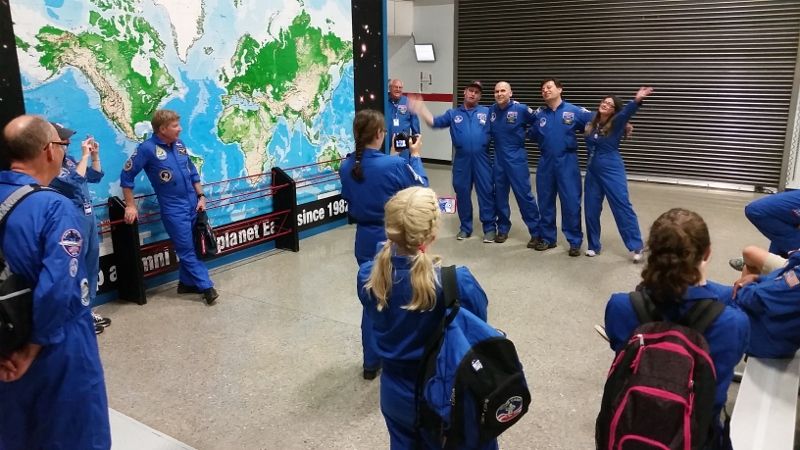 One of the Facebook team crews doing a song and dance to get back into their mission after killing themselves somehow. It'd be our turn to do that soon enough...
Rain kept pounding the outside of the buildings, sometimes so hard we could hear it from where we were deep down inside the building, and it only let up every now and then. The perfect weather we'd enjoyed in Florida was over for good. Still, we never got caught by heavy rain in the open while going from one building to another.
Several people went to the bar at the adjacent Marriott hotel that night for drinks. The Facebook team was there, and an obese member who clearly lived in his Mother's basement was talking trash that didn't make any sense. I could have verbally (or physically) kicked the living hell out of him if I'd wanted with extreme ease - and would have had he made comments about the female members of the team I walked back to the HAB - but it wasn't worth the effort. It's probably the only time in his life he'll ever feel, 'cool.' It made me appreciate my own team mates even more to know we didn't pick up any bottom-feeders like that.
Day Three:
Another early start. By now, I'd realized breakfast came early if you just wanted cold food. I was always a cereal man, so I grabbed that, muffins and some fruit each morning.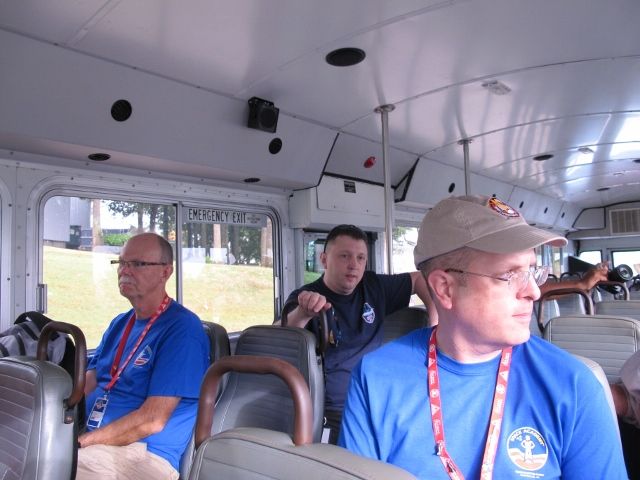 On the bus...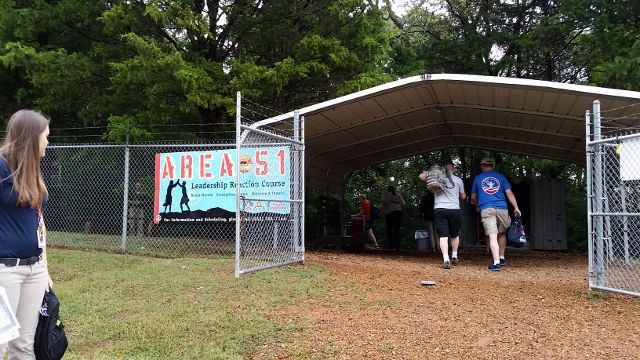 Mel, watching Justin and I bringing up the rear of the team. God knows what she was thinking at the moment!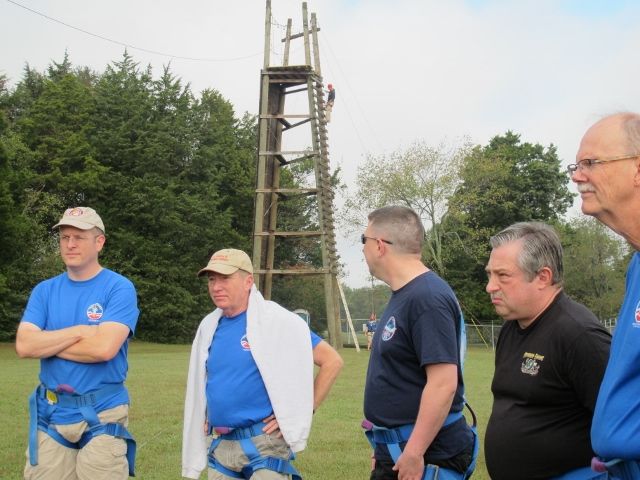 "Zip line, you say? I'll go first." Three photos by Danielle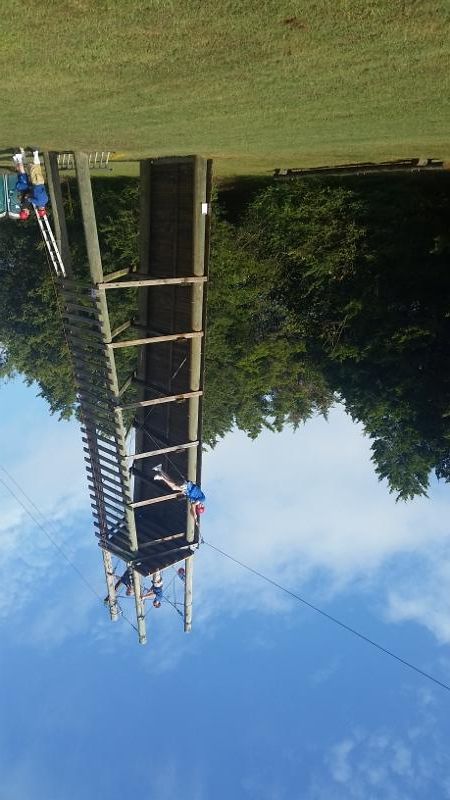 Steve on the zip line.
Back to Area 51 again, for a zip line. No big deal for me as my Dad built one in the back yard for my brother and me when we were kids. This was from a tower 50 feet high, quite a bit taller than anything Dad ever built. You had to climb the tower to get to the line, which was no big deal for me other than being slightly winded once I got to the top. I volunteered to go first and was off pretty quick. That first step is a doozy but I had a blast. I now regret not diving off head first or rolling off the tower backwards.
Then, we trained for the 3-hour 'Long Duration Mission'. Against some serious hope that I'd be picked to command the orbiter (again, I'm all about the stick time), I instead got picked as a Mission Specialist to replace the crew in the ISS, along with fellow MS, Chika. This time, we'd be hit with bunch of malfunctions and crew issues. Trainers known as 'space ghosts' followed us and would randomly tell one of the crew to do something to see how everyone else would react. Hilarity ensued and we were off and running quickly. They killed the commander in the first couple of minutes, broke both my legs and knocked me out, made the pilot (my pal Steve) lose his mind and then made me go nuts, too. Meanwhile, Justin and John were dealing with their own issues in the ISS. Poor Chika simply couldn't keep up with it all, as if anyone could, as she was the only one not told to lose her mind. I was told to hint that I was going to open the main side hatch, which I did several times. When nobody tried to stop me, I shrugged and killed us all by flinging it open. The trainers made Mission Control do a dance to bring us back to life as it was more to wake them up for not paying attention. I was reminded of all the times I ran Opposing Force (OPFOR) exercises in the Army, so karma came back for me in that way. Things balanced out (they'd have to as in real life we'd have aborted to a TAL abort landing in Spain with all that going on) and soon we were at the ISS.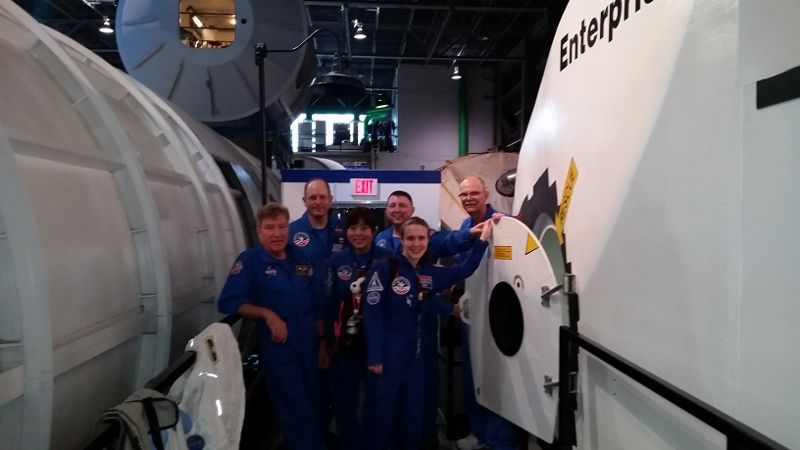 EDM crew, not knowing what was about to happen...
Justin was there and told us how hot the EVA was for them when he and John (yes, the crew of SEMM1 was all aloft again) did it.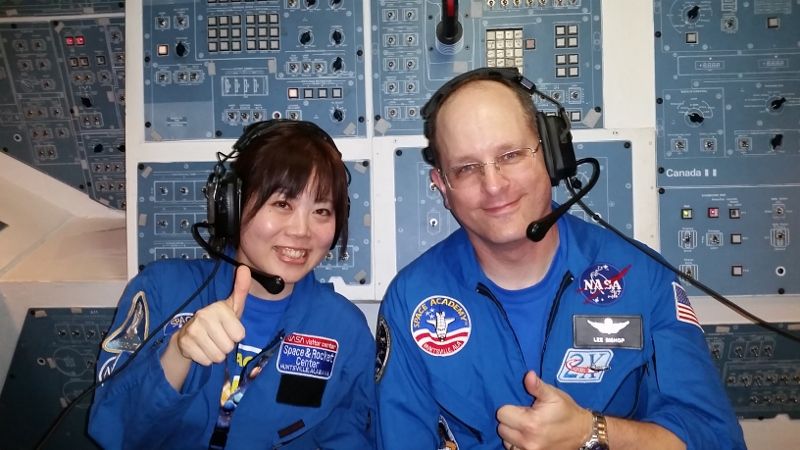 Chika and I, just before all hell broke loose
Chika and I suited up for our spacewalk, with cooling vests filled with ice. Just as Justin said they would, they felt great until we started moving around. I roasted in that thing for the duration of the mission and sweat dripped onto my face shield and glasses enough to make it tough to see anything. We were both hoisted above the ISS on wires and had to move around. That part was surprisingly realistic in regard to holding yourself in one place and swinging everywhere. We did repairs and moved stuff around. All too soon, we were back inside the ISS cooling off (I was, anyway, Chika didn't look nearly as worn out as I was).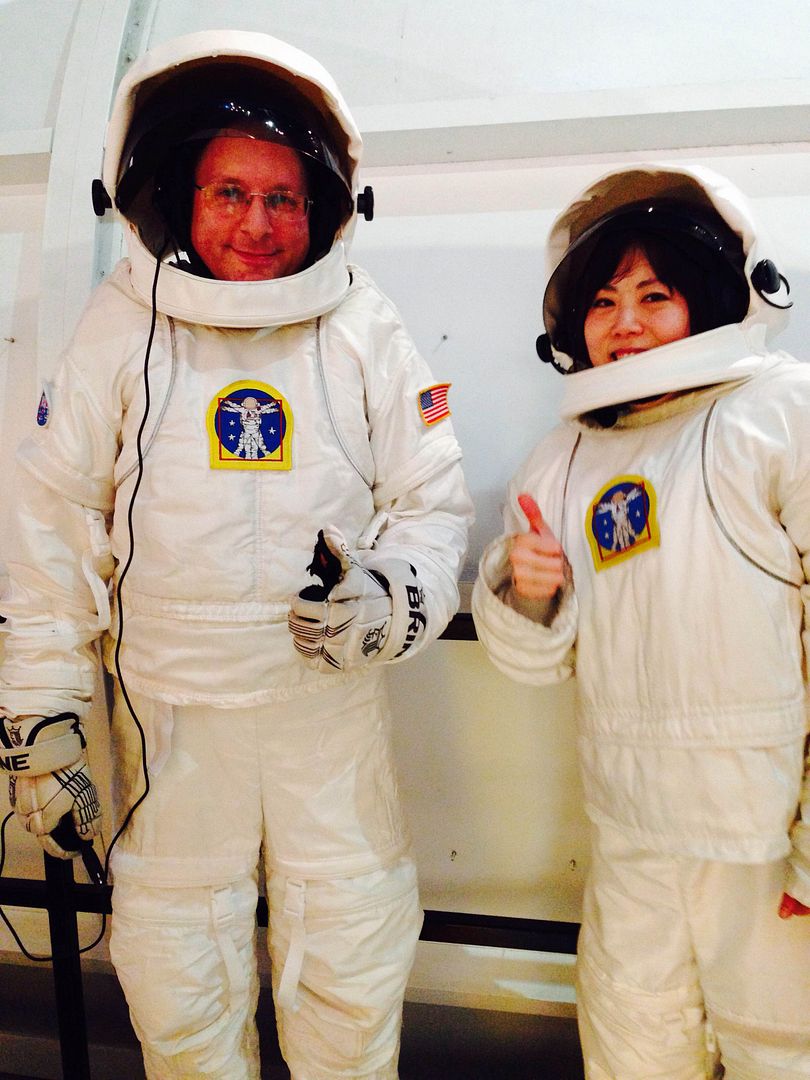 Chika and I, right after our ISS repair EVA. We had smiles on our faces, but I was wiped out by then! (photo courtesy of Chika)
Then, on to the Astrotek building for MAT, 1/6 scale training and finally we got to use the MMUs! I'd never even seen one running before and it was so cool to pilot it. Mel spun me around in the MAT and proceeded to ask space trivia questions. I had a devil of a time thinking of the third member of Apollo 1's crew at a time like that but I eventually did.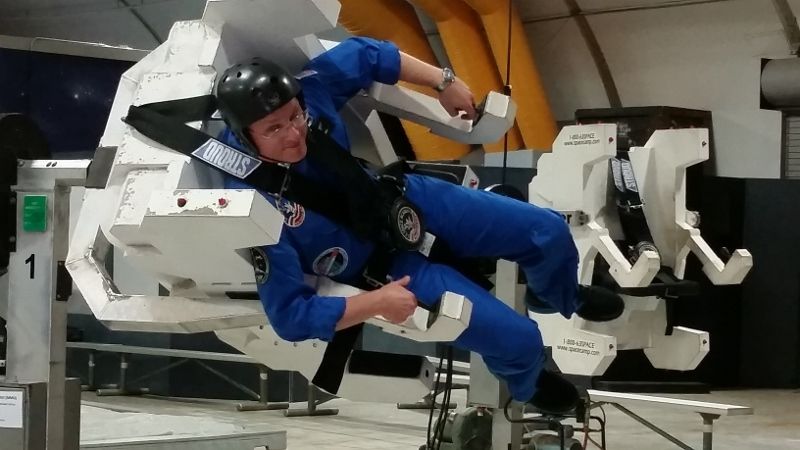 God, I loved flying this thing. Best camp shot ever! (Thanks to Lindsay for taking this great shot)
Danielle had the oddest Space Camp group shot I've ever seen, with her spinning around in the MAT behind us... (Photo supplied by Danielle)
It was time to head back to the Davidson building for the official team photo. I had brought an orbiter flag with the team name on it, and we used that for informal shots. The official shot was in front of the Apollo LM. By now, we were a team and initially questioned waiting so long for the team shot (in the past, they usually do it first thing). I'm glad we did it this way, now. When I broke out the flag, Mel took to wearing it like a cape.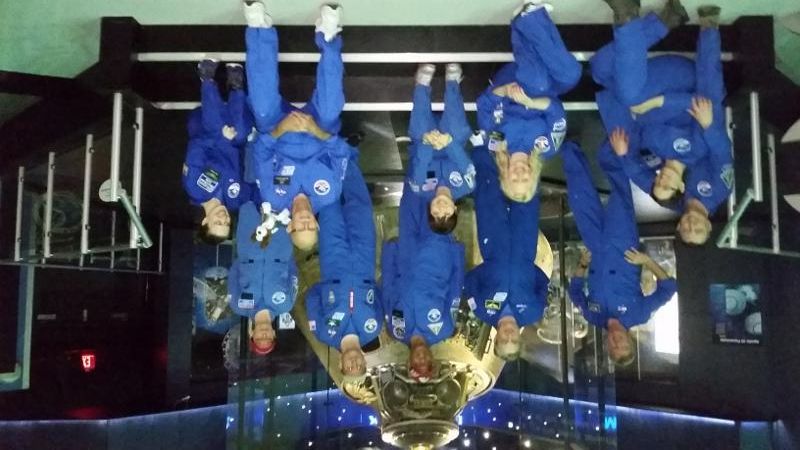 I liked this shot better than the formal portrait. That's the Apollo 16 capsule in the background. Note that Barbie and Laika are in the shot as well.
By now, we'd missed dinner in the cafeteria. That didn't bug us (a few of us got sick from the food before this. I got a minor 'gut bomb' the day before but a couple of others got it really bad), but Mel was ticked as it wasn't outside the posted times. We all chipped in for pizza and Mel made the staff promise we'd get lunch after graduation to make up for this.
On to the Space Bowl, for an abridged version of the q/a game. An entire team decided not to even show up, amazingly. Our primary competition was the Facebook team, but we dominated anyway. It didn't last very long.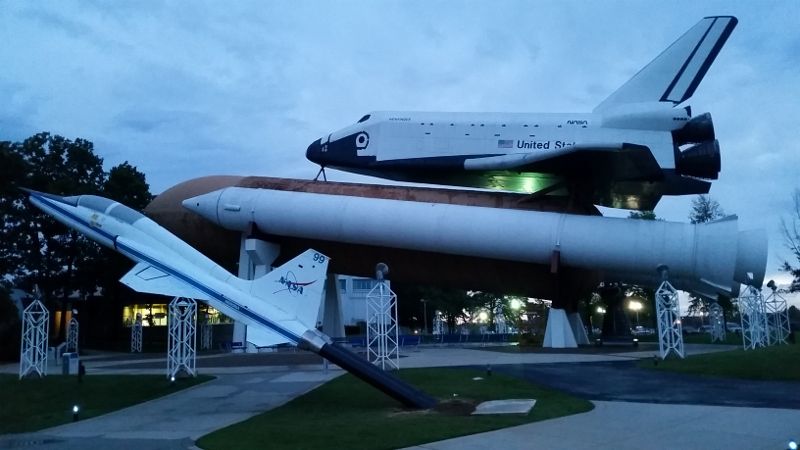 Pathfinder at dusk. I never get tired of seeing this.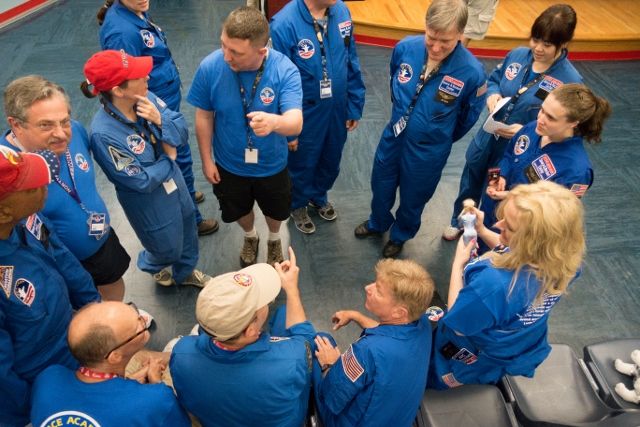 During Space Bowl. Note the SEMM1 crew at the bottom (Steve, Me in the tan cap, and John), doing what we do best; imparting space trivia! Two guys with us in this shot were put onto our team because the rest of their team decided not to even show up(!) I felt really bad for them, being on a team like that. (Photo by Danielle)
The day was a blur of activity and it's now tough to recall everything.
I think some people went back to whatever they call the bar at the Marriott now (it used to be known as Otters) but I called my wife and walked around the inside and outside of a very lonely-looking HAB1 while the rain came down nonstop. It would have been good to hang with my team mates again but it was also nice to be alone for a few minutes. And it was great talking to my wife, who couldn't possibly understand what was going on where I was.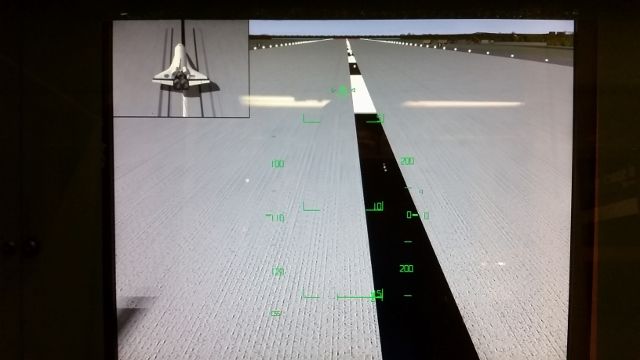 On the final night, I hopped into the public shuttle landing simulator and set it for highest difficulty. I landed the thing 5 straight times, right down the pike...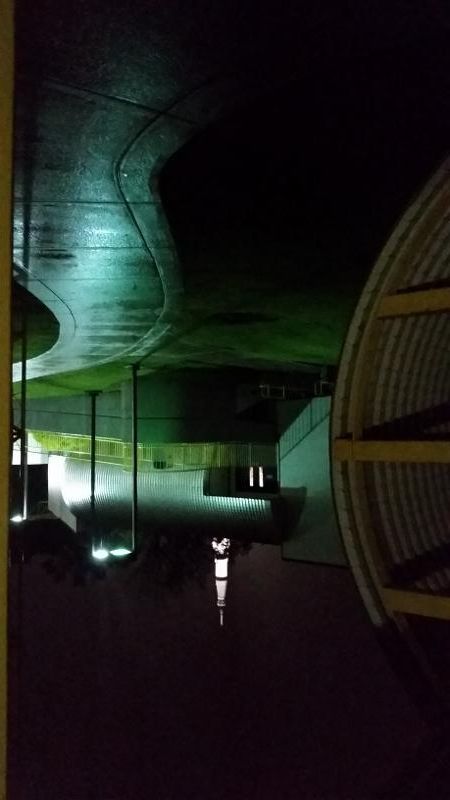 HAB1 late at night. So depressing on the final evening at Camp...
Day Four: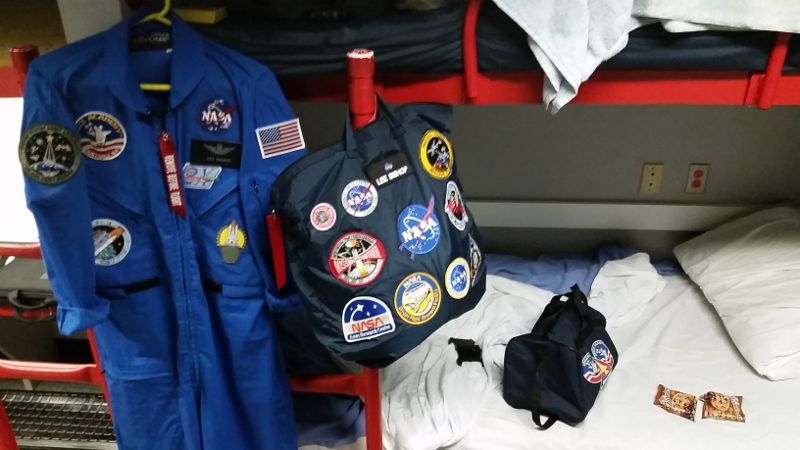 The last roundup begins...
The last day at Space Camp is always the hardest. I got up at 6 again, having actually gotten some sleep. We packed up Steve's truck so he could take me to the airport later that day. Breakfast was subdued in a way, until we heard that CBS's show, "This Morning" had filmed some B-reel stuff during our EDM mission, to support another story. Some of my team got on TV, which we cheered. Dr. Barnhart, who's run the place since the 80s, actually came to where we were to watch the show as it aired. Everyone was really glad to see that and I got to talk with her for a minute or two as I'd never met her before.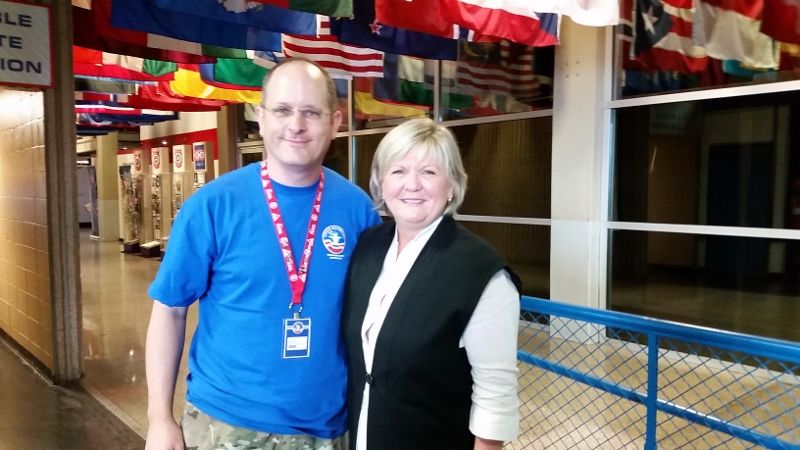 Me and Dr Barnhart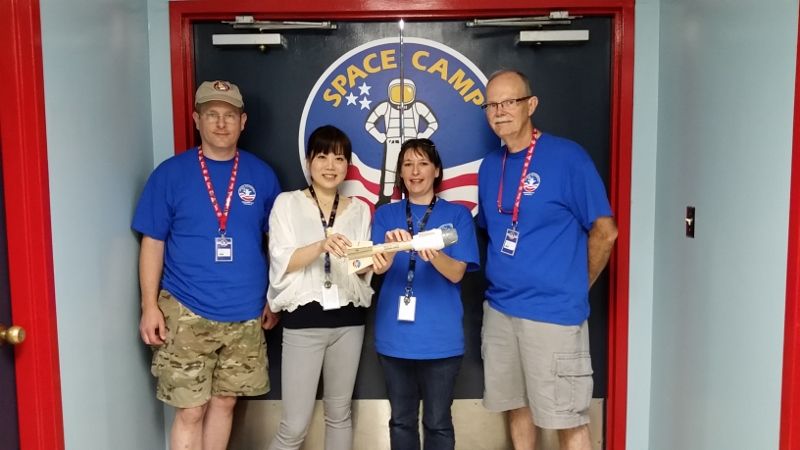 Me, Chika, Lindsay and Steve with the pre-and-post-launch of our guided missile with weaponized egg warhead. I'm still worried that we'll all eventually be called before the International Court at the Hague for war crimes and launching biological weapons... (Photo by Danielle)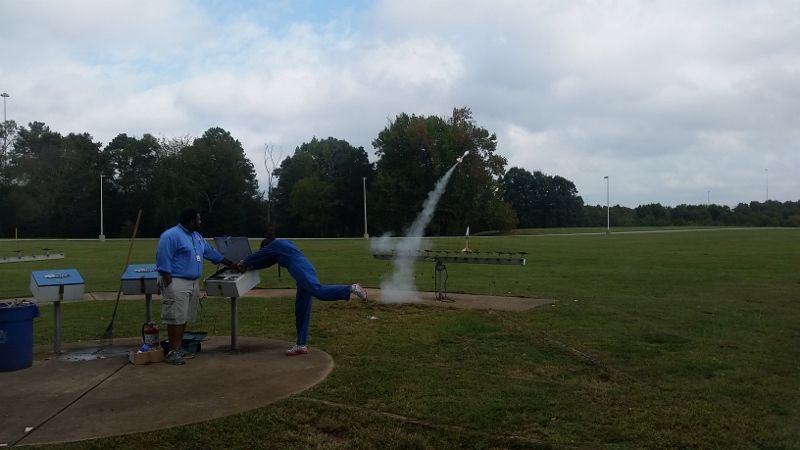 We launched our rockets, with eggs inside. Ours decided to go, "guided missile" mode and took off at about a 20 degree angle for the trees. Steve hiked out and saw it ripped apart, too high to reach. The egg was MIA. Oh well.
All too soon, it was time to get our wings. Again. They asked those who'd attended camp before to stand up and our entire team stood up along with a couple of random people on the other teams. That surprised a few people, including me. John had the camp record that weekend, this being his 12th time! Justin was a close second, at 11, though.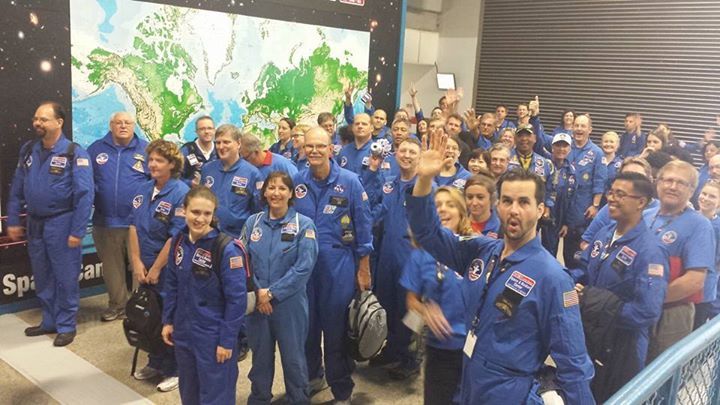 ALL the teams lined up for graduation. Team Discovery is the second rank from the camera, I'm the tall guy giving a high thumbs up at the back of that row, behind John wearing the white cap. We were lined in reverse alphabetical order, so John was next to me this time.
At the graduation, Mel choked up in her speech as we stood in front of our beloved guide. That got to a few of us I think, as we really meant something to her. She made the experience, no question, but it still wouldn't have been as good as it was had we not been looped together with people of a similar mindset. It was a perfect storm, as it were.
We were told to turn our nameplates upside down as a camp tradition, which I didn't realize. I thought that was only for people who'd been there for the first time (Steve did, too), but I reluctantly turned mine upside down as literally everyone was doing so. They were ripped off and put right as we were handed our wings.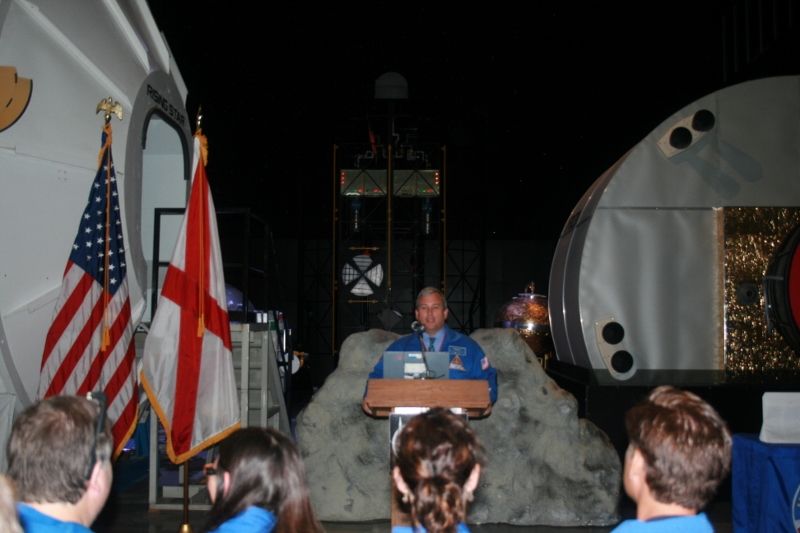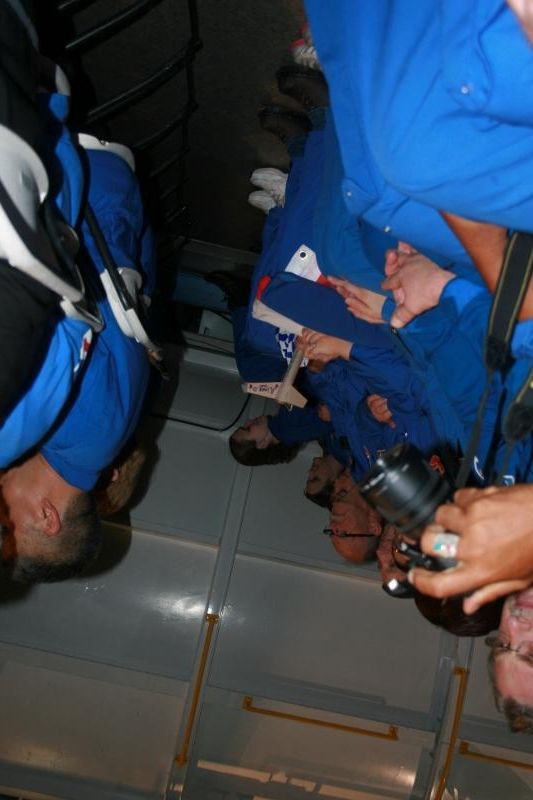 Graduation. Always a sad time.
We didn't win the commander's cup; the Facebook team got that. We did, however, get best mission for the Orion mission I was in on, and drum roll please...
Best mission patch.
I'm now 3-0 for wining patch design, something I was really happy with. I was shocked to find out that the staff actually was aware of this random guy from WA state who has mission patch skills. It never occurred to me that they were that aware of stuff like that.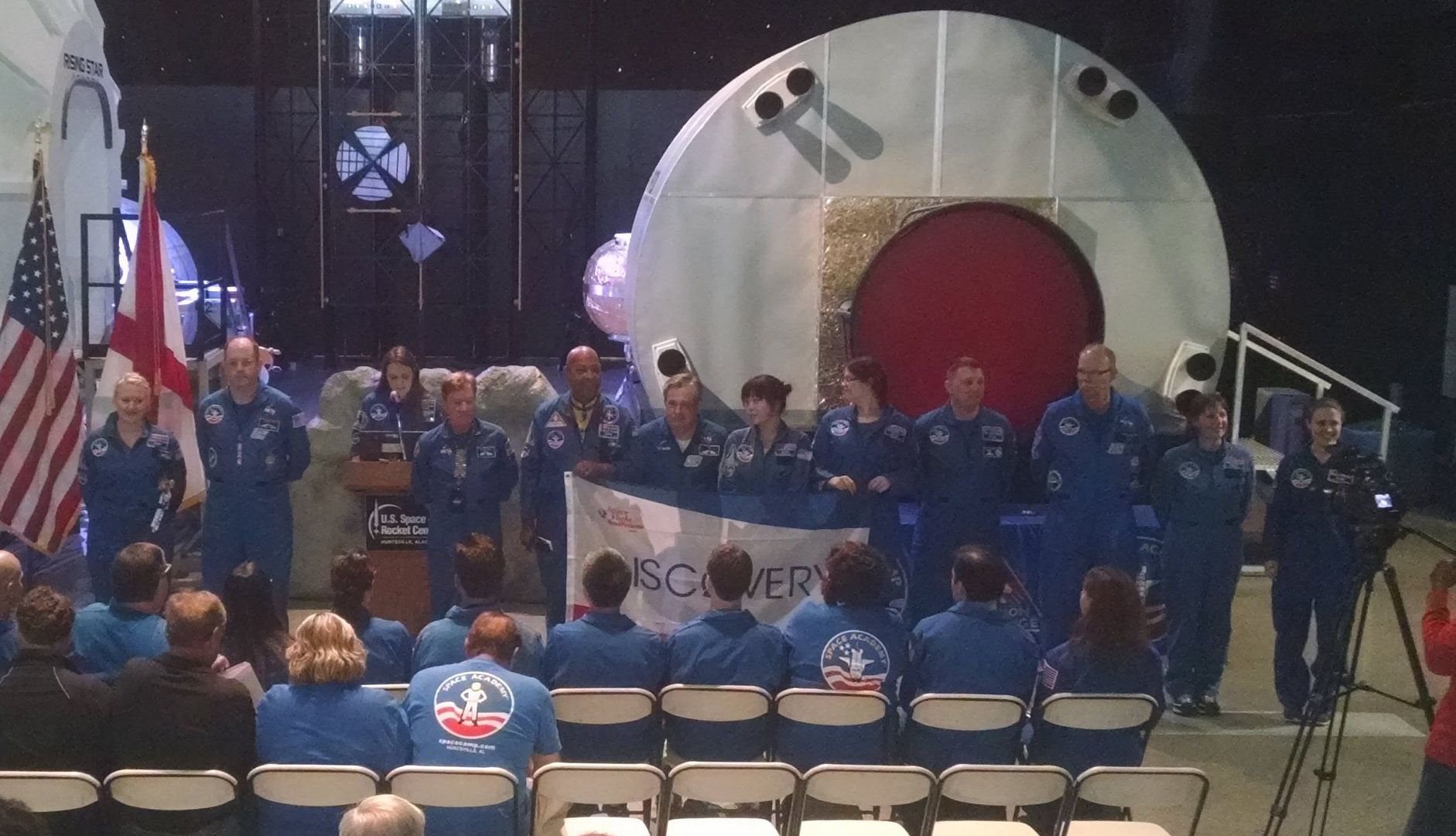 Team Discovery (Barbie and Laika, too) stands tall for the final time, listening to Mel choke up while saying how good we were. Naturally, she was right... I left a gap between me and John so we weren't standing in front of Mel as she talked.
We did win space bowl, but it's not something you get anything for, now. How they figure these things out was always a mystery to me. The Right Stuff award went to a guy on another team. Oh well.
Mel won best trainer, which we cheered her on for. She was the best, no question. I couldn't bear to take back my Discovery flag as she loved it as her cape (I'd taken to calling her, "Queen Mel, the First"), so I asked the team to sign the flag and we presented it to her at lunch after we dispersed for the final time. She'll always be royalty in our book.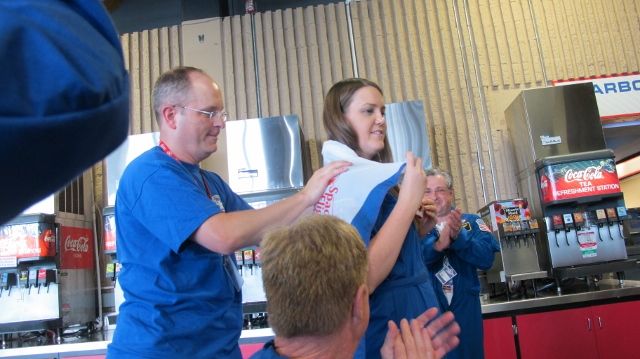 Me presenting Mel with the signed team flag (Photo by Danielle)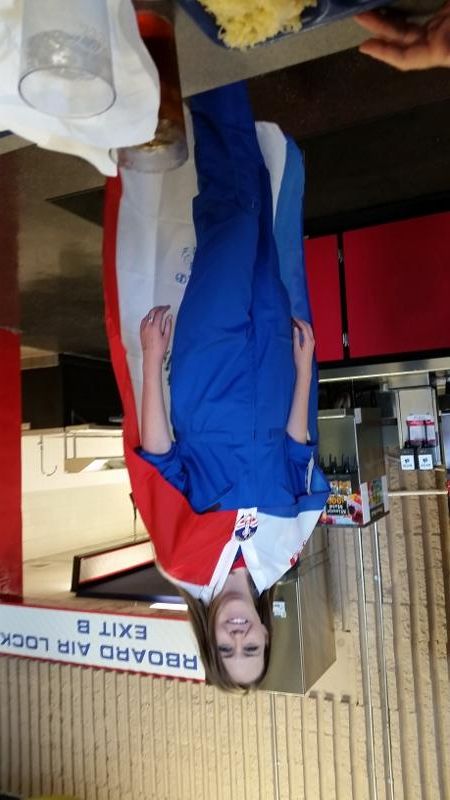 All hail, Queen Mel the First!
I walked around the grounds with Steve and John after saying goodbye to the team for the final time. Soon enough I had to say adios to John, then to Steve at the airport. My plane barely beat a nasty storm front through Huntsville to Denver, connected with no time to spare, and I was in Portland by 8:30, and home by 11. Space Camp 2014 was over.
My God, how I miss it so.
G'Day Team Disco, wherever you are.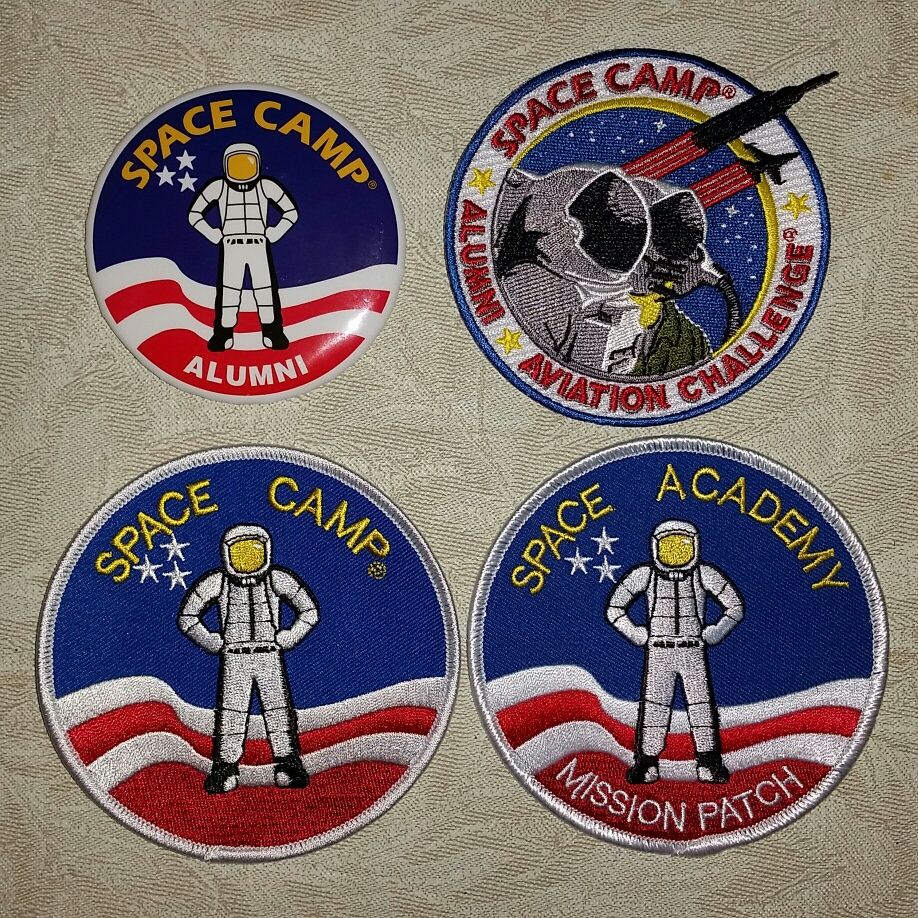 Neat Camp swag. I finally got an alumni patch and I sure earned the ironic mission patch, patch!
More of my shots can be found here: https://www.flickr.com/photos/[email protected]/sets/72157648729266106/
I put some of the shots here as well as from others on the team into this slideshow: https://www.youtube.com/watch?v=klYM0S6UNjM
Lindsay uploaded some of her shots (which I'm in a few and I think I took a couple of them for her), which will give you an idea: https://www.flickr.com/photos/lindsaytice/sets/72157648365870849/
Danielle's blog on her Space Barbie is really good and is a must read! http://spcaeacademybarbie.blogspot.com/
After a while at home, I decided to do a digital version of the mission patch, as I plan on making patches out of this. The sketch always looks cooler than the finished version but I think this turned out okay, it sort of has an STS-7 patch feel to it. Alongside is the first of the patches I actually had made for the team. I love how they turned out: