So, here it is, the final "Rear Echelon" cartoon for WW2 re-enactor magazine. I'd had this idea for a very long time from a discussion I'd had many years ago while freezing my backside off at Indiantown Gap one year. I hope you have enjoyed them, I just wish this wasn't the end. I really can't see getting another venue to regularly publish them, but you never know...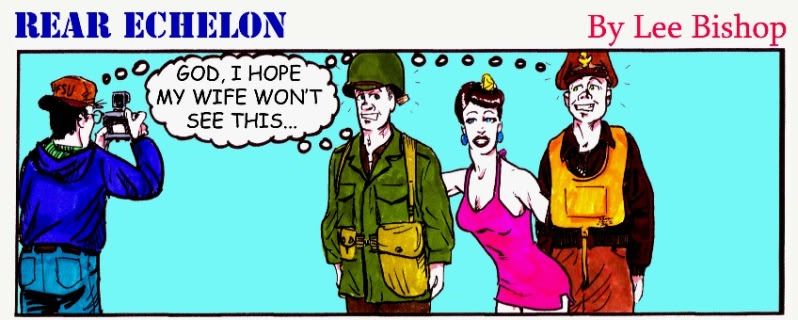 This is based on a shot a model wanted to take with me at an airshow for her modeling portfolio. I declined because I haven't been decent looking in years (if ever) and also didn't want to incur the wrath of my long-suffering wife if she ever saw the photo. I'm glad I declined, as she practically climbed up the side of the guy she took the photo with. Before I was married, I'd have of course welcomed that, but I love my wife too much...

Sometimes, I get a theme for a new cartoon requested by the editor. Sometimes, something clicks right away. This time they wanted a cartoon about Normandy. Considering how many people are into US Airborne, I got to wondering if anyone would even know a good ground-pounder beach impression if they saw it. Even if I have never seen this happen, I'm willing to bet it has.

Sometimes, I get a theme for a new cartoon requested by the editor. Often, I already had my own wacky ideas and I get stumped at something funny on the idea presented. This was one of those times. I was asked for a cartoon on the RAF and/or the "Dambusters" raid. While I'm aware of it and had good reference materials on RAF uniforms, I couldn't think of a thing that was funny to me about re-enactors and a Lancaster blowing up a hydroelectric dam that didn't smack of terrorism. At the last minute I made it as British as I could, with the substitution of my original idea of a beach ball (do they even take beach balls to the beach in England? I have no idea!) and you can't get any more British than the name "Nigel," I reasoned. My apologies to all.

This is in response to the growing number of people in the re-enacting hobby who show up at display events with airsoft guns. I have a couple of them myself as they're fun to plink off the back deck with, but it's getting rather silly in the hobby. I was shocked that the magazine got no unfavorable mail over this one...

Of course, I've done this myself more than once with my WW2 Jeep. Though I doubt it, a guy I served with in the Army swore he took a Bradley Fighting Vehicle through a Burger King drive-through once...
This is the original version of this cartoon, the one that ran actually has a WW2 German pot at the top of the tree (the editor wanted the change), but I liked this version better because to me it looked more "festive" like that. The woman and pup and very loosely based on my cute wife and (equally cute) dachshund Charlie. The guy is even more loosely based on me, because he has more hair than I do!

I've been wanting to draw this for years. Tom Corbitt and myself back in Tallahassee (Tom, if you're reading this, e-mail me, man!) talked about forming a group called the "Hollywood re-enacting society" where everyone would have the cheesy WW2 uniforms in bad WW2 movies from the 60s and 70s...

I got this idea after my brother sent me some rocks and beach sand from the invasions beaches in France. The really funny part about this cartoon is that everyone who has seen it has told me how cool it would be to fill a sandbox with Omaha Beach sand...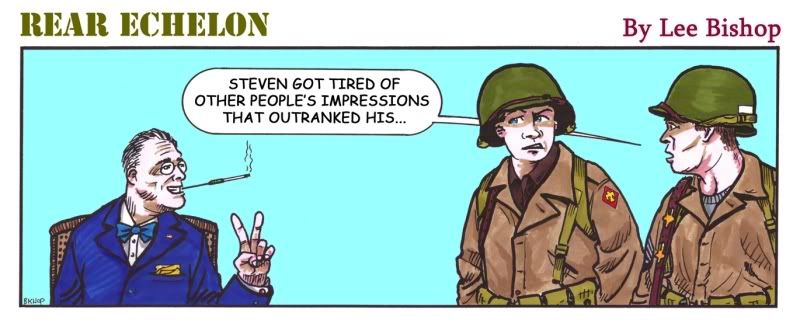 This is actually based on a true story of a group of German re-enactors who showed up at Indiantown Gap in the 90s dressed like Hitler, Rommel and Himmler (and I am told Goering was there too, but I didn't see that guy). I'm not kidding, that actually happened. Obviously it wouldn't be all that funny to a European audience (I can't blame them), so I made the offending guy FDR instead. "Steven" is a nod to one of the founding members of my living history group. No, he'd never do this, I just thought it was funny to use the name of someone I knew. The 45th Division patches are also a nod to our group. Hey, it's my cartoon!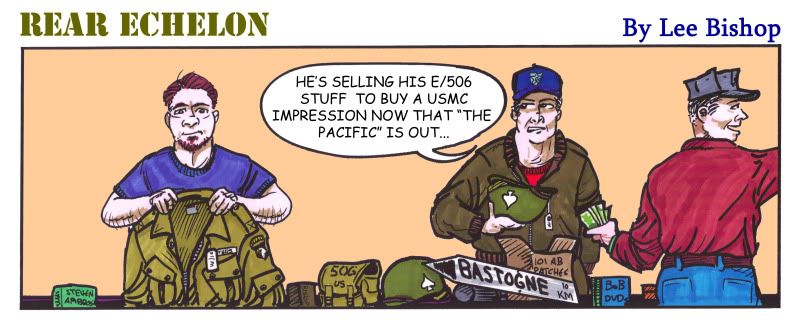 Here it is, my very first ever printed color WW2 re-enactor cartoon! The subject is sort of weak but it was to go with the issue's theme of the HBO series, "The Pacific," and I must admit to being fed up with the legions of 506th re-enactors in the hobby today. "We're not re-enacting a TV show," they say. Yeah. Right. Look into how few people were doing 101st before 'Saving Private Ryan' and 'Bandwagon of Brothers' came out…

I had this idea sitting around for years. You can plug almost anything into it and make it work. It was especially timely because it ran during one of the most harsh winters the UK had in decades.

Yes, this actually occurred, word for word. I was there. The location and date will remain undisclosed but I doubt it's only ever happened once...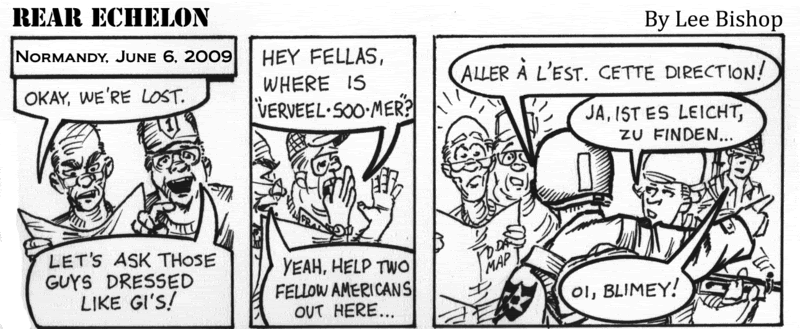 This one I was never very happy with. Two US vets in France ask what they think are American re-enactors to find none even speak English. It's based on a true story that a vet told me once. I think the UK/EU readers found it funnier than I did, at least I hope so!